Abandoned Newport Mansion | The Bells | Rhode Island
Abandoned Newport Mansion | The Bells | Rhode Island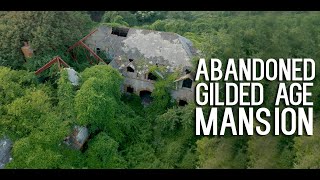 This is an abandoned Newport mansion…kind of. This isn't really the mansion. These are actually the remains of the stable house and garage that was built next to the mansion. But if this is just where the horses slept, just imagine what the actual mansion was like? Welcome to what remains of the Abandoned Bells Estate.
Filmed/Edited by Jason Allard
My website: www.UncomSenseMedia.com
Follow me on Instagram: @Uncomsense
Drone: DJI Mini 2 Fly More Combo
Editing: Final Cut Pro w/ custom plugins
Resources to Check Out:
The Millionaire and the Mummies | https://rb.gy/dzsk5u
Music By:
WaveyyBeats | https://rb.gy/pcsrlk
Beats by Con | https://rb.gy/ndq16d
Dexter Yu | https://rb.gy/exmuzo
Arcane Beats | https://rb.gy/ka8p2l
Moneo | https://rb.gy/dlvn9t
DWNLD | https://rb.gy/v2by3u
Knox | https://rb.gy/ejkt9s
Unknown Instrumentalz | https://rb.gy/wopy7g
Elevated Productions | https://rb.gy/768e90
ezy | https://rb.gy/o8k7vy
The Gilded Age was an era from from around 1870 to 1900. It was a time of rapid economic growth from Industrial and technological advances mainly in the northern and western united states. Railroads were the major growth industry, with the factory system, mining, and finance increasing in importance. But it was also a time of straight up poverty and inequality as the wealth was highly concentrated at the top, with the workforce being paid barely a livable wage.
From 1860 to 1900, the wealthiest 2% of American households owned more than a third of the nation's wealth. To put this in perspective, today the wealthiest 1% of Americans own a third of the nation's wealth ah man that's even worse never mind let's get back to the gilded age.
The phrase Gilded Age was coined by Mark Twain who was making fun of the era – that it was a time of serious social problems masked by a thin gold gilding of economic expansion. It was materialistic excesses combined with extreme poverty.
Some of the big names of the time include John Rockefeller, Andrew Carnegie, JP Morgan, and our boy for this story, lawyer slash businessman Theodore M. Davis, a man who accumulated his wealth through straight up corruption and fraud. He was subject to three congressional investigations, from which he escaped totally unscathed. Being rich sounds awesome.
But Theodore Davis was best known for his excavations in Egypt's Valley of the Kings between 1902 and 1913. He made some pretty big discoveries, that were frequently highlighted in articles from the New York Times. At least 20 of his digs involved important finds or enhancement of scientific knowledge about ancient Egypt. He financed digs with his own money and hired professional archaeologists, painters & photographers.
Before becoming a world famous explorer, in 1882 he used his wealth to construct a mansion estate right on the ocean in Newport Rhode Island.
Abandoned New England
Abandoned from Above
Newport
The Reef
Mansion
Breakers
Rosecliff
Aquidneck Island
Providence Journal
Providence Train Tunnel
East Side Providence
Historic ruins
Abandoned mansion
Urban Exploration
Adventure
Exploring
Jason Allard
New England
History
Urbex
Drone Video
Abandoned Places near me
Abandoned places MA
Massachusetts
Rhode Island
Providence
Connecticut
New Hampshire
Vermont
New York
Documentary
Top 10 Abandoned Spots