Laurel Bill on Alaska Story time with Aunt Phil, Blazing postal routes
Laurel Bill on Alaska Story time with Aunt Phil, Blazing postal routes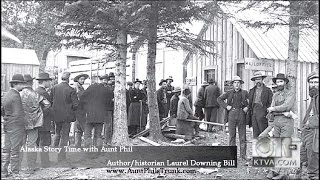 How did people get letters to their loved ones mining for gold on Alaska creeks? Alaska author/historian Laurel Downing Bill shares the story of early adventurers who blazed trails in the Alaska wilderness to set up postal routes across the Last Frontier on Alaska Story Time with Aunt Phil.
Before Alaska became part of the United States, the Russians used "dispatch cases" to send mail between Alaska and Russia via ships. When the U.S. took over the vast land, they needed to establish some type of system where letters and packages could reach those who chose to come north to the Last Frontier. The first post office was established in Sitka on July 23, 1867, three months before Alaska was officially transferred from Russia to America.
Since there were no roads, only a few Native trails, and travel by water was at a minimum, early postmen had to carve out their routes by hand. In those early days, rugged individuals established routes between communities like Valdez and Eagle, along the Kuskokwim River and many along the mighty Yukon.
When the gold rushes brought more people to Alaska in the late 1890s, mail carriers attempted to use horses to run the mail. But deep snow proved too tough on them. So they next tried using reindeer and dogs.
Reindeer proved too stubborn and tough to harness break, so dogs finally became the beasts of burden that ended up delivering the the mail for the next few decades. Some communities received mail once a week, some only once a month if lucky.
When gold nuggets were discovered on the beaches of Nome in 1899, postal carriers carved a trail from Dawson to Nome. Then Nome, in its heyday during the early 1900s, became the largest General Delivery address in the United States when more than 20,000 people had arrived on its shores.
Col. Carl Ben Eielson, in a small single-engine airplane, proved that the U.S. mail could be carried faster and cheaper by plane when he flew from Anchorage to Fairbanks and back on Feb. 21, 1923.
A few months after the U.S. Post Office established the zone system in Alaska in September 1948, the last official dog team mail contract expired. But dog continued to carry mail between Central and Miller House on the Steese Highway in Alaska's Interior in emergencies.
The last dog mail run ended in 1963 when Wien Air Alaska established the first commercial airplane base on St. Lawrence Island at Gambell and a landing strip at Savoonga.
This episode aired on CBS Anchorage affiliate KTVA Channel 11 Daybreak on Sept. 14, 2015.
Alaska history
http://www.ktva.com/category/daybreak/
http://www.AuntPhilsTrunk.com
http://www.Facebook.com/LaurelBillAuthor

LaurelDowningBillAuntPhil