Legend of the Great Trail Lost French Gold Ohio USA
Legend of the Great Trail Lost French Gold Ohio USA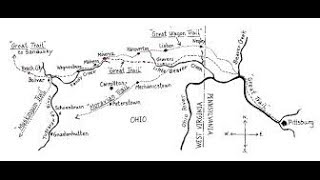 In the 1750's the French held possession of fort Duesquine, which later became fort Pit in Pittsburgh. George Washington was with a company of 2000 British troops from the east to attack the fort. The British held up at Turtle Creek for the night. Indian scouts reported to the French that an attack was coming. The french loaded one ton of gold which was to be the french payroll onto 10 pack horses and sent them west along the Great Trail. They were to head to Bolivar where there was a block house for shelter and provisions. That location later became the location of Fort Laurens. The British were successful in overthrowing the fort and learned of the escape with the gold. Four days out of Pittburgh, the British were catching up to the French, so the Frenchy buried the gold to avoid it getting into British hands. It was reportedly buried at the fork of 3 springs. One mile to the west of that location a rock was placed in the fork of a tree.
There was only one survivor of the ensuing battle, a fellow by the name of Le'sour. In 1820 or so, a diary of the (by then deceased) Le'sour telling the entire story was found.
The legend of this treasure was first printed in the April 3, 1875 edition newspaper, The Minerva Commercial, Minerva, Ohio. (Historians differ on the exact time period. Some researchers suggest 1755, others suggest 1758. Down through the years the legend has grown, and new stories and theories have evolved. Some say it was an impending attack by Indians that triggered the burying of the gold, others say it was an impending attack by British soldiers. Historians have noted an advancing British army under General Braddock in 1755, as well as another advancing army under General Forbes in 1758.) In 1952 mentioned that a Spanish gold coin of the period covered by the treasure was found in the craw of a chicken. Of course this started the gold rush anew. Treasure hunters with modern coin finders have scoured the area in teams. There were also reports of the use of large earth moving equipment that literally changed the face of the landscape while trying to uncover the treasure.