Terry Shannon | Amazing Treasure Tales | Treasure Hunting Stories
Terry Shannon | Amazing Treasure Tales | Treasure Hunting Stories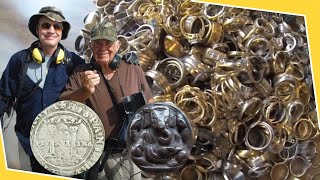 Terry Shannon | Amazing Treasure Tales | Treasure Hunting Stories
Join Treasure Hunter Ed Huffman of Adventures with Ed Huffman as he tells amazing stories about fellow treasure hunters! These stories are amazing and true! Ed has met some very interesting treasure hunters and metal detectorists throughout his years in the treasure hunting world! Please feel free to contact Ed anytime if you have an interesting and amazing TREASURE story to share!
The First tale of this series is about Legendary Treasure Hunter Terry Shannon! Ed shares some of Legendary Treasure Coast FloridaTreasure Hunter Terry Shannon's amazing finds from gold jewelry, gold rings, priceless artifacts, Spanish artifacts and Spanish reales!
Ed will continue this series about treasure hunting and metal detecting stories in the upcoming weeks!
AMAZON STOREFRONT – https://www.amazon.com/shop/adventureswithedhuffman
Treasure Mountain Detectors – https://www.treasuremtndetectors.com/