Uncovering DX's LEGENDARY Invasion Jeep | WWE's Most Wanted Treasures | A&E
Uncovering DX's LEGENDARY Invasion Jeep | WWE's Most Wanted Treasures | A&E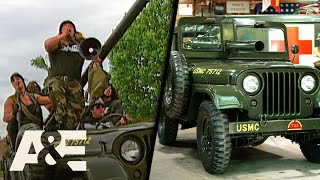 We are taking a closer look at DX's iconic invasion jeep in this scene from Season 2, Episode 2.
Tune in to WWE's Most Wanted Treasures, every Sunday at 9/8c on A&E, and find more mini-episodes in this playlist: https://www.youtube.com/playlist?list=PLcviVtB85dLzs5PECUlaCE6Bvo8GmQiEt
Want more WWE's Most Wanted Treasures? Buy the full Seasons in the Google PlayStore or on YouTube:
https://bit.ly/WWEsMostWantedTreasuresPlayStore
https://bit.ly/WWEsMostWantedTreasuresYouTube
#WWEonAE
Subscribe for more from WWEs Most Wanted Treasures and other great A&E shows: http://aetv.us/subscribe_ae
Check out exclusive A&E content:
Website – http://www.aetv.com/
Facebook – https://www.facebook.com/AETV
Twitter – https://twitter.com/AETV
A&E leads the cultural conversation through high-quality, thought provoking original programming with a unique point of view. Whether it's the network's distinctive brand of award-winning disruptive reality, groundbreaking documentary, or premium scripted drama, A&E's brave storytelling always makes entertainment an art. Visit us at aetv.com for more info.