1 Million in Gold, Silver & Diamonds Hidden in Michigan! HURRY! #JohnnyPerri #TreasureQuest
1 Million in Gold, Silver & Diamonds Hidden in Michigan! HURRY! #JohnnyPerri #TreasureQuest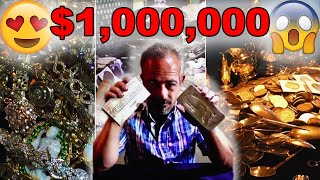 Urgent!! 1 Million in Gold, Silver & Diamonds Hidden in Michigan! HURRY! #JohnnyPerri #TreasureQuest
Have you ever wanted to find treasure!?!? Well in this video I tell you about a silver and gold contest!! Find millions in hidden and buried gold and silver treasure… even diamonds!! This looks really cool, check it out!
Story: https://www.fox2detroit.com/news/jeweler-buries-1m-of-treasure-around-michigan-and-is-selling-tickets-for-a-quest
Website: https://www.johnnystreasurequest.com/
Become a member of this channel to access perks & show your support:
https://www.youtube.com/channel/UC3Kyfl_LXW78hy1MGWsFnhQ/join
Get Emergency Food at a big discount and help support my channel!!!
If interested visit: http://www.PrepareWithIs.com
***New PO Box!!***
Want to send me some "Channel Mail" that I will open on a video? Please send it to:
International Stacker
PO Box 21
Springfield, IL, 62705
Official Rules for all Giveaways (GAW's):
1. Open to all ages 13 years and older (ages below 18 must have parental consent to participate).
2. No purchase necessary.
3. Void where prohibited.
4. YouTube is not a sponsor nor involved in the giveaway.
5. All of the items given away are gifts from myself to the winners.
6. I will explain any rules for the Giveaway in the video or during the livestream.
7. To participate, you must be a subscriber and like the video.
Note: I am not responsible for items lost in the mail.
Please make sure to visit the YouTube TOS here: https://www.youtube.com/static?template=terms
DISCLAIMER: On my channel I may speak about precious metals, cryptocurrencies, tokens and/or other "markets." I am not a financial adviser and do not charge anyone for my videos/opinions, this channel is for entertainment purposes only. My views/statements are merely my opinions that I have formed on my journey. You are responsible for your own stacking, trading, investing, etc. Please do your research I am not responsible for your actions.