25 Undiscovered Lost Treasures Waiting To Be Found
25 Undiscovered Lost Treasures Waiting To Be Found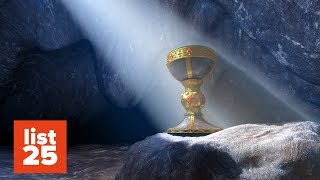 Pull out your shovel and treasure map for these undiscovered lost treasures waiting to be found! Hidden treasure is not just for pirates and fairy tales, this video is full of stories of real life treasure, hidden away from prying eyes. Whether hidden for safety, to avoid taxes, or just because no one has come to claim them, these undiscovered treasures are ready for the taking – if you can find them.
These lost treasures have been hunted for generations. Left behind by well meaning folks, mistaken pirates, or explorers with a bout of bad luck, these hidden treasure stories are 100% true! If you want a chance to find lost treasure and rediscover a hidden town, you have to watch this list! Think you're the next Indiana Jones? Pack up your fedora, bull whip, and whatever else you need to get the job done, because these hidden treasures are not for the faint of heart. Sit back, buckle up, and get ready for these 25 undiscovered lost treasures waiting to be found! Make sure to leave us a comment letting us know what you thought of this list and what you want to see next!
Full List, Photo Credits, and Sources: https://list25.com/25-undiscovered-lost-treasures-waiting-to-be-found
SUBSCRIBE – http://bit.ly/2uwq6BJ
Check out our store: https://teespring.com/stores/list25-swag
Follow us on:
List25 Facebook – https://www.facebook.com/list25
List25 Instagram: https://instagram.com/list25/
List25 Twitter – https://twitter.com/list25
List25 Pinterest: https://www.pinterest.com/list25/
See more Top 25 lists on our website:
http://list25.com
Hidden treasure is all around us. From the Oak Island money pit, which has been a host of exploration with no sign of treasure, to the hunt for the golden owl, which despite having a living owner has yet to be discovered, we have every story of real treasure ready and waiting for you. Do you have what it takes to find King John's jewels or recover the historic jade Imperial Seal of China? Think you can succeed where others have failed and recover billion worth of gold from Lake Toplitz? Want to own a piece of American history by finding President Davis' gold? Watch this video all the way to the end to hear the likely hiding places of a priceless Cartier necklace, gold lost from the Battle of Little Bighorn, and a millionaire's treasure hidden at the end of a poem. You'll learn all about these and more when you watch this video! Make sure to hit the subscribe button and ring the bell to make sure you get all our updates!
Music Credit: Fallen Soldier & The Story Unfolds
#List25 #TodayILearned #Treasure