5 Lost Hidden Treasures in the Great Smoky Mountains – Gold Mines, Silver & Gold Coins
5 Lost Hidden Treasures in the Great Smoky Mountains – Gold Mines, Silver & Gold Coins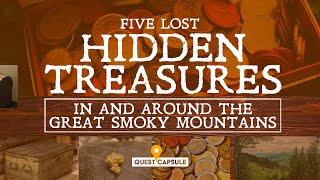 If you've ever been curious if there is Gold in the Smoky Mountains, or for that matter, any sort of hidden treasure from long ago left unfound, we cover 5 stories that might just have you eager to learn more.
From lost gold and silver mines, buried gold and silver coins, and outlaw bandits who looted the money and ran…learn the interesting backstories to 5 unique accounts of lost treasure found in and around the Great Smoky Mountains, and the persons and places intertwined with their tales.
Are they fact or only a myth? We're not entirely sure but each account has its own mysterious appeal and we can't help but wonder about, as many others have too, is there lost treasure in the Great Smoky Mountains and the nearby surrounding areas, waiting for someone to stumble upon it?
If you're someone who likes gem mining in Gatlinburg Tennessee or Pigeon Forge, or for that matter anywhere in the Smoky Mountains, then at some point you probably have wondered if there was more out there than just the colorful gems you discover mining at your local water-powered sluice.
Tune in and learn if there is truly "Gold in them, ther' mountains."…or is it just ole' folklore?
5 Lost Hidden Treasures in the Great Smoky Mountains – Gold Mines, Silver & Gold Coins

#smoky mountains #hiddentreasure #goldintennessee
If you enjoyed this content, please subscribe to our channel and join the Quest Capsule family. We greatly appreciate your support and each and every one of our followers! It truly helps and allows us to explore new, interesting places and the time and efforts involved in creating new vlog content for you to enjoy! Thank you so much! 💙😊 Also, be sure to like, share, and comment!
Subscribe To Our Channel:
➡️ https://www.youtube.com/questcapsule
Drop by The Quest Cabin Merchandise Store to see our latest collection of various designs of t-shirts, hoodies, home decor, organic tote bags, pint glasses, mugs, and other fun designs and products. Every purchase you make supports the Quest Capsule Channel. All orders are handled and fulfilled by Spring. If you purchase anything from the Quest Cabin Store, send us a direct email telling us what you ordered, and a cell phone image of you sporting our merchandise, so we can mention you in a future video!! 😎
Shop Merch Store ➡️ https://www.thequestcabin.com
Support us on Patreon with 3 Membership Tiers that help support the Quest Capsule Channel. Each with varying levels of rewards:
Patreon ➡️ https://www.patreon.com/questcapsule
Help support the channel with a small PayPal donation to help our channel and our ability to bring new content to you grow! A dollar or two helps us more than you know and is ALWAYS much appreciated!
PayPal ➡️ https://paypal.me/questcapsule
Follow us on Social Media! Be sure to say hello and leave a comment!
Facebook ➡️ https://www.facebook.com/questcapsule
Twitter ➡️ https://www.twitter.com/questcapsule
Instagram ➡️ https://www.instagram.com/questcapsule
©Quest Capsule – 2021
=================