5 Places to Gold Mine Near Helen Georgia
5 Places to Gold Mine Near Helen Georgia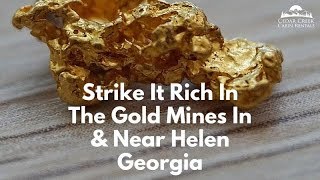 They say that there's a pot of gold at the end of the rainbow, but you're much more likely to find gold (and have fun doing it) during your next vacation to Helen.
Many people know about the California Gold Rush of 1849, but what most people don't realize is that the "California Gold Rush" was not the first strike of gold in the United States. In fact, the "gold rush" of northern Georgia occurred first – right here in the Helen and Dahlonega areas!
Are you ready to learn where you can put your hands to work to see what treasures you can uncover here in northern Georgia?
Read more on our blog here:
https://www.cedarcreekcabinrentals.com/helen/things-to-do/gold-panning