A Day in Whittier, Alaska | The City Under One Roof | Hike and Explore With US
A Day in Whittier, Alaska | The City Under One Roof | Hike and Explore With US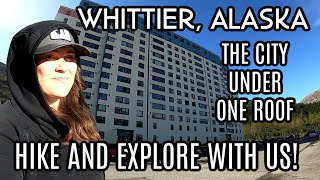 Come spend a day with us in Whittier, Alaska. This is a unique city accessible by a 2.5 mile tunnel through a mountain. Come along as we show you the City Under one Roof, hike the Horsetail falls, and explore the city.
Hello from Alaska! I'm Lauren and on This Alaska Life, you will get a glimpse into life in Alaska as a wife and mother of 4 boys. Come along for family adventures, cooking, daily life, and Alaska Grocery Shopping!
#alaska #lifeinalaska #familyvlog
For Collaborations and Inquiries E-mail Lauren @
TheHammHomestead@gmail.com
Packages/Letters:
Mark Hamm
1131 East International Airport Rd. Anchorage Alaska 99518
If you like to learn more about organizing, decorating, and celebrating your HOME check out our channel, The Hamm Homestead! https://www.youtube.com/channel/UCjIHnziTC9cXDhIKCGsBRJg
Shop our Amazon Storefront: https://www.amazon.com/shop/thehammhomestead
All our music is Epidemic sound, check out their awesome selection of music and sign up here: https://www.epidemicsound.com/referral/vzuznj/
We are Amazon and Reward Style affiliates. This means some of our links may be commission links at NO cost to you! We simply get a small commission when we recommend things that we love. Thank you for your support!