A HIDDEN TREASURE in New Hampshire You WANT To Find
A HIDDEN TREASURE in New Hampshire You WANT To Find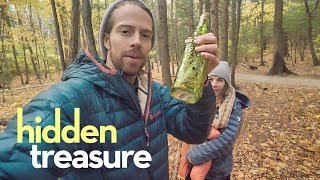 We just opened the waitlist to our course "How To Travel For Free & Get Paid For It": https://TheJurgysCourse.com/waitlist
We'll let you know on our Instagram when this treasure is found! SUBSCRIBE to our weekly videos. LAST WEEK'S VIDEO▶︎ https://youtu.be/qFTL4xDEYzI
CATCH UP on our epic road trip here ▶︎ http://bit.ly/50statesroadtrip
BE a part of our ADVENTURE Facebook GROUP (200 members)▶︎ http://bit.ly/AdventureFacebook
HANG OUT with us on INSTAGRAM ▶︎ http://bit.ly/JurgysInsta
SUBSCRIBE TO BE A PART OF OUR FUTURE ADVENTURES!
We love New Hampshire. It's so beautiful. You may notice the fall colors in this video, and that's because this video was filmed right before the big snowstorm came and we're finally getting this one uploaded 😆You want to find this place in New Hampshire!
Avalyn kept cooing the entire hike and staring up at the trees. It was really cold but also really beautiful and we're glad we made the stop at Diana's Baths and Echo Lake State Park! We talk in this video about how we believe as parents, our role is to cultivate an environment and facilitate moments that allow Avalyn to experience what is healthy for her at that time. Being outdoors this much with her as she develops has been awesome and it's great to see her love for everything nature.
What do you guys think of our 50 state US road trip so far? Would love to hear from you! Fun seeing all of our hidden treasures being found! This is definitely a Jurgy Hidden Treasure that you would want to find.
Click this link for free copyright songs (what we used): http://share.epidemicsound.com/rWdhJ
Our current camera setup (including lens): https://bhpho.to/2T1JzGZ
With this mic: https://bhpho.to/2SZzQ3V
Help us translate captions into your language: https://goo.gl/R5ipfd
Send us something in the mail to open in mail-time or bury in one of our treasures!
The Jurgys
Po Box 970041
Orem, UT 84097
———————————————————————————–
Our Asia Adventures: https://goo.gl/zSzJyn
Our Europe Adventures: https://goo.gl/hWzYtu
Our Popular Adventures: https://goo.gl/aV3gqQ
Adventures with hidden treasures: https://goo.gl/EneNaX
———————————————————————————–
If you want to join on an adventure or collaborate, let us know!: thejurgyfam@gmail.com
For business inquiries, or if you want to contribute to our weekly treasures please email — contact@thejurgys.com
#Jurgys50states