A lot of Treasure Has Been and still is being Found on this Florida Beach – Here's why
A lot of Treasure Has Been and still is being Found on this Florida Beach – Here's why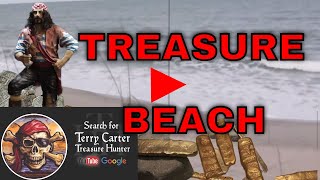 Massive amounts of treasure is being found along this Florida beach that they call the treasure coast. Thanks Peter Tobia for showing me to this area and for taking me to the McLarty treasure museum.
https://verobeach.com/vero-beach-community/mclarty-treasure-museum
I need to come back here someday with a metal detector and see what I can find.
Don't forget to subscribe and hit the bell and like button, thanks for all your support.
Subscribe to my channel – https://goo.gl/nbxyyt
If you're going to buy something off of Amazon help support my channel and buy it from this link. It doesn't cost you any more but amazon does give me a little kick back, thanks
https://www.amazon.com/shop/terrycarter?ref=ac_inf_hm_vp
Terry Carter
51 W. center suit 304
Orem, Utah 84057
huntershdt@gmail.com
Visit our web pages and forum
http://www.ancientlosttreasures.com/forum/
http://www.ancienthistoricalresearchfoundation.com
http://www.mysteryglyphs.com
Also look us up on face book at:
https://www.facebook.com/groups/723774731015622/
If you're going to buy something off of Amazon help support my channel and buy it from this link. It doesn't cost you any more but amazon does give me a little kick back, thanks
https://www.amazon.com/shop/terrycarter?ref=ac_inf_hm_vp
To learn more about the treasures of the Superstition Mountains and the Lost Dutchman gold click this link
Subscribe to my channel – https://goo.gl/nbxyyt
To learn more about the Nephilim Giants click this link
https://www.youtube.com/playlist?list=PLjoNGaL8McEMpXVdtMYAqTUHW6of0Ojbe
To learn about the Egyptians in the Grand Canyon and other areas click this link
to learn about the outlaws of the old west click this link
To learn about the Mystery Glyphs click this link
Clues to the rich lost Woolsey mine – https://www.youtube.com/watch?v=IiMgYBIwyDk
Clues to the Spanish treasures on the Henry Mountains –

Clues to two ancient church treasures – https://www.youtube.com/watch?v=xz3OZNfddQ4
Love gold and silver? Wonder why you should own gold and silver? Want to make extra money with out affecting what your presently doing?
Click the link below and watch the video's to learn more, then call or email me if you have any questions or for more information, Thanks Terry L. Carter
https://7kinfo.com/d/DX657n
Terry Carter
51 W. center suit 304
Orem, Utah 84057
huntershdt@gmail.com
801-420-4543