Abandoned Hanton City | Ghost Town | Rhode Island
Abandoned Hanton City | Ghost Town | Rhode Island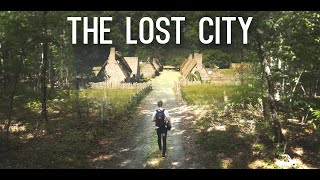 Hidden in the woods of Smithfield, Rhode Island are the remains of a town that dates back to the late 1600s. These ruins are spread over a huge area and can be tricky to locate, which is why it took us two separate visits to track down everything there is to see here.
Filmed/Edited by Jason Allard
My website: www.UncomSenseMedia.com
Follow me on Instagram: @Uncomsense
Drone: DJI Mini 2 Fly More Combo
Secondary Camera: GoPro Hero8 Black
Editing: Final Cut Pro w/ custom plugins
Listen to the Weird Island Podcast about Hanton City here | https://rb.gy/ztzfmd
Music By:
Dexter Yu | https://rb.gy/exmuzo
GLB Beats | https://rb.gy/cthxih
Welcome to the Abandoned Hanton City.
Visiting here in the summer is definitely exploring on hard mode, but I really wanted to experience it as a truly lost city – completely overgrown. And before you say um, calm down it's just Smithfield – I grew up in the city so being out here is basically the wilderness, okay? Going off trail even for a few minutes places you in rocky sometimes swampy terrain that all looks the same.
The ghost town today consists mainly of stone foundations and walls, since the original buildings were abandoned and rotted away a LONG long time ago. How long ago?
Hanton City was abandoned sometime in the early 1800s – we can estimate this based on a Providence Journal article from 1937 that sought to identify the earliest settlers of the area.
The journalist mentions large trees growing out of a cellar hole and foundation here, using this to approximate the year it was abandoned.
He says "judging from the apparent age of these trees, which did not begin to grow there until long after the house had fallen to decay, this location hasn't been inhabited for at least 100 years". So, 1937 minus about a hundred years brings us to the early 1800s.
An interesting relic here is one of the wells, uncovered and still held together after all these years. If one thing here is haunted or contains a ghost, it's 100% this creepy well in the woods.
Near here are the foundations to one of the houses with steps to the cellar still visible. Most houses during this time only had cellars beneath the kitchen, so it's likely these structures were actually pretty big back in the day.
Nearby are the remains of a corn crib, a raised structure where farmers would store and dry their crops. The structure itself sat on these stones but has since completely rotted away.
There is also this dam deep in the woods that was used to help with irrigation – again, invisible here unless you know exactly where to go.
So where did all the people who lived here go?
The stories told are wild, ranging from a mysterious plague that wiped everyone out, to a mass alien abduction that made everyone vanish into thin air. My personal theory though, was that the nearest Dunkin Donuts was over 10 minutes away and they just couldn't deal with that.
The 1889 Providence Journal article I mentioned earlier interviewed 80 year old Tom Hanton, who still lived on the edge of Hanton City in a one-room shanty. He was described in the story as "the last of the Hantons."
Born around 1809 and about 80 years old at the time of the interview, Hanton told the reporter that his town "was a lively and enterprising place, when he was young." The inhabitants worked in stone quarries and made shoes by hand, taking them to Providence to sell at the market. But, the quarry closed and factories full of machines took over the making of shoes, driving the residents of Hanton out of their occupations.
He goes on to say "They had all got poor, and sold out to anybody, and died off".
Hanton City reached its peak in the 1730s and consisted mainly of poor tanners/bootmakers and their families. It was never more than a small town, and was already abandoned when official state maps were drawn in the 1850s. The residents all relocated once a new highway pattern diverted traffic away from Hanton, which was once a rural trading stop between Providence and Woonsocket.
Abandoned New England
Abandoned from Above
Industrial Revolution
Providence Journal
Providence Train Tunnel
East Side Providence
Historic ruins
Abandoned mansion
Urban Exploration
Adventure
Exploring
Jason Allard
New England
History
Urbex
Drone Video
Abandoned Places near me
Abandoned places MA
Massachusetts
Rhode Island
Providence
Connecticut
New Hampshire
Vermont
New York
Documentary
Top 10 Abandoned Spots