Assistant Treasure Hunts at Disney World and Hawaii
Assistant Treasure Hunts at Disney World and Hawaii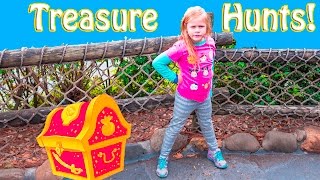 Join us for some of our favorite Treasure Surprise Hunts with TheEngineeringFamily's Assistant and Mr. Engineer! Watch as we visit Tom Sawyer Island inside the magical Disney World Magic Kindgom and Hawaii Surprise Treasure hunt where we find lots of Shopkins!!
Featuring the Assistant https://www.youtube.com/playlist?list=PLoLQ9unpi4OGfgjxJsWnO878aLXo2TgXH
About The Engineering Family
We are The Engineering Family, a family of educators working to show you how to make learning fun and engaging through toy unboxings, toy reviews, and original series designed to insight into imaginative play within your family. With Mr. Engineer as an experienced engineer with a love of exploring new things, Mrs. Engineer an award winning teacher with a math and counseling focus, and their daughter The Assistant you can think of The Engineering channel as your imagination station. You can think of The Engineering Family channel as a Funbrain meets YouTube. As always… TheEngineeringFamily only features 100% suitable family fun entertainment.
Check out the Adventures of The Assistant and Wiggles! It is our animated series featuring the Assistant, her Dog Wiggles, and science experiments! https://www.youtube.com/playlist?list=PLoLQ9unpi4OHbJtfVcfgDIoyZw75FHF-E #Familyfun #Familyfunforeveryone #Theengineeringfamily