Beyond Oak Island: *Legendary Loot* 6 MILLION DOLLAR TREASURE Buried in Texas (Season 2)
Beyond Oak Island: *Legendary Loot* 6 MILLION DOLLAR TREASURE Buried in Texas (Season 2)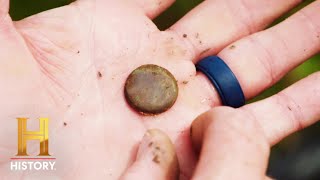 Treasure hunters believe they are hot on the trail of a treasure stashed away in the 1800s by Sam Bass, in this clip from Season 2, "The Buried Loot of Sam Bass."
Watch all new episodes of Beyond Oak Island, Tuesdays at 10/9c, and stay up to date on all of your favorite The HISTORY Channel shows at history.com/schedule.
#BeyondOakIsland
Subscribe for more from Beyond Oak Island and other great The HISTORY Channel shows:
http://histv.co/SubscribeHistoryYT
Find out more about the series and watch full episodes on our site:
http://histv.co/BeyondOakIsland
Check out exclusive The HISTORY Channel content:
History Newsletter – https://histv.co/newsletter
Website – https://histv.co/History
Facebook – https://histv.co/Facebook
Twitter – https://histv.co/Twitter
From pirates such as Blackbeard and outlaws like Jesse James, to Aztec gold, priceless historical artifacts from American history and sunken treasure ships, "Beyond Oak Island" digs deep into the many treasure quests across the globe, revealing amazing new details and clues from past searches – and in some cases, advancing the hunt.
The HISTORY Channel® is the leading destination for award-winning original series and specials that connect viewers with history in an informative, immersive, and entertaining manner across all platforms. The network's all-original programming slate features a roster of hit series, premium documentaries, and scripted event programming.