California Gold and Platinum Nuggets – Where They Were Found (Locations Given)
California Gold and Platinum Nuggets – Where They Were Found (Locations Given)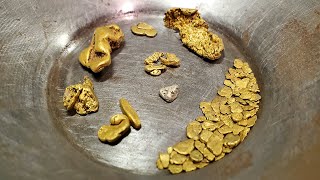 The gold and platinum nuggets in this video were found in the hills of northern California during many prospecting adventures in many different areas. We take a look as some of these finds and where the gold was found, along with some background into each discovery. Gold is not easy to find by any means, it takes years of dedication and looking in the right places along with a little luck and much hard work to locate finds like these, but sometimes it's purely luck! Join me as I share some of my golden journeys into the mother lode region in search of gold and adventure!
Become a supporting Patron! Perks include , access to group outings, guided trips, video shout outs and more! https://www.patreon.com/bePatron?u=27466891
Check out my items for sale such as gold bearing paydirt and gold from the show, as well as hats and other items : https://www.etsy.com/shop/TheArtisanProspector
For Clothing: https://teespring.com/stores/mother-lode-store
Get out there and start your own gold Adventure! Check out these mining essentials that I use to find gold, all at the lowest price online!
– Gold Bearing Paydirt from the Show! – (Limited Availability)
-Honey Hole, the richest bag we offer! https://www.etsy.com/listing/817407378/natural-california-placer-gold-bearing
-High Grade, One hell of a pan! https://www.etsy.com/listing/817409352/natural-california-placer-gold-bearing
-Pay Streak, getting a taste of the good gold! https://www.etsy.com/listing/817411094/natural-california-placer-gold-bearing
-Tools-
-Panning kit: https://amzn.to/2IvTdMu
-Garret 14″ 1/2″ classifier https://amzn.to/2UFeyHm
-Crevicing tool kit https://amzn.to/2WkSHX8
-Rock hammer: https://amzn.to/2WoZ3ot
-Plastic Scoop https://amzn.to/2IpSYDg
-Gold Hog Highbanker https://amzn.to/38aaWEl
-Minelab SDC2300 Metal Detector, BEST ALL AROUND GOLD DETECTOR! https://amzn.to/2KxFYhq
-Minelab Gold Monster 1000 BEST SMALL GOLD VLF DETECTOR https://amzn.to/3oVBqQP
-Gold Bug 2 Metal Detector:BEST VLF TRIED AND TRUSTED OVER 30 YEARS! https://amzn.to/2GlLrSq
-Apex Pick MUST HAVE for SERIOUS DETECTING! https://amzn.to/37qbIy0
-Apex Pick Holster https://amzn.to/37rwcX0
-Garrett Pinpointer BEST WATERPROOF PINPOINTER, MUST HAVE FOR SERIOUS DETECTING! https://amzn.to/2Ky4T4a
-Mavic Pro 2 Drone https://amzn.to/2Wprjay
-GoPro camera https://amzn.to/3gU5Csy
-Underwater Sniping Sunffer https://amzn.to/3mo59QB
-Sluice box: https://amzn.to/2Ggmk3E
-Sluice box stand https://amzn.to/3ahms3x
-Backpack/waterproof: https://amzn.to/2Dhn1sO
-Dewalt cordless vacuum https://amzn.to/2ZHATtD
-Batteries for Dewalt vacuum https://amzn.to/302oFqG
-Hand powered suction dredge https://amzn.to/2HVrjbL
-Gold Cube mini recirculating highbanker https://amzn.to/318KC8O
-Blue Bowl Concentrator: https://amzn.to/2Ip7CKW
-Books-
-National Audubon Society Field Guide to Rocks and Minerals: North America (National Audubon Society Field Guides) https://amzn.to/2ZNxR7d
-Gold! Gold: A Beginners Handbook: How to Prospect for Gold https://amzn.to/2ZLeADo
-Bacon and Beans from a Gold Pan https://amzn.to/31gZTEV
-Gold Panning California: A Guide to the Area's Best Sites for Gold https://amzn.to/2ZXFza1
-Fists Full of Gold https://amzn.to/2HTPAi4
-Gold Districts of California https://amzn.to/34x3lgE
-Buried Treasures of California https://amzn.to/2Qe0qX9
-A Guide to Treasure in California https://amzn.to/300TE6x
-Gold Rush Ghost Towns of North Central California https://amzn.to/316eNgN
-On and beyond the Georgetown Divide https://amzn.to/3155ZYE
Resources and information on gold claims, group claims, land status, geology and history:
– www.mylandmatters.org
– https://www.usgs.gov/
– http://www.treasurenet.com/forums/gold-prospecting/
– https://www.goldprospectors.org/
– https://www.americanminingrights.com/
Want to hang out with the gold prospecting community and even get a chance at interacting with your favorite prospecting personalities live every Tuesday evening? Check out the Flash in your Pan channel for live content every week! https://www.youtube.com/channel/UCgOl-Q_pf8UMrwysbLsuTFA
Check out more adventures and mother lode gold on my journal thread at TreasureNet.
http://www.treasurenet.com/forums/prospectors-journals/480253-jerry-prospectors-adventures-color-county-9.html
#GoldNuggets #GoldProspecting #GoldPanning