Centuries-old shipwrecks, gold coin treasure discovered off Colombia coast
Centuries-old shipwrecks, gold coin treasure discovered off Colombia coast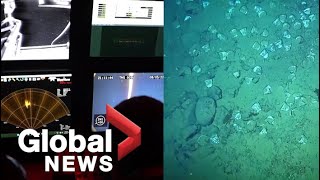 Centuries-old shipwrecks complete with gold coin treasure have been discovered off the coast of Colombia.
According to officials, Colombian naval officials conducting underwater monitoring of the long-sunken San Jose galleon discovered two other historical shipwrecks nearby.
One is believed to be a Spanish colonial-era boat and the other thought to be from the time of Colombia's war of independence from Spain some 200 years ago.
The San Jose galleon sunk in 1708 near Colombia's Caribbean port of Cartagena. Some historians believe its cargo of treasure could be worth billions by today.
Authorities are working to raise the shipwrecks and its contents from the seabed for display in museums.
For more info, please go to https://globalnews.ca/news/8902848/san-jose-galleon-shipwreck-billions-gold-coins/
Subscribe to Global News Channel HERE: http://bit.ly/20fcXDc
Like Global News on Facebook HERE: http://bit.ly/255GMJQ
Follow Global News on Twitter HERE: http://bit.ly/1Toz8mt
Follow Global News on Instagram HERE: https://bit.ly/2QZaZIB
#Colombia #Treasure #GlobalNews