Colonel Mosby's Lost Treasure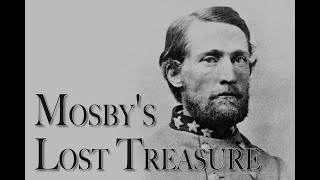 The year is 1863 and the American Civil War is well underway. Colonel John Mosby, a Confederate, is raiding Union positions. Mosby and his men, nicknamed Mosby's Rangers, were famed for their skill in attacking, doing their damage, and disappearing. His exploits earned Mosby the moniker of The Grey Ghost.
The story of Mosby's lost treasure begins with the capture of Brigadier General Edwin H. Stoughton. As the story goes, Mosby got the drop on Stoughton, taking him and his men prisoner. He found Stoughton in bed, asleep, and woke him up with a slap on the butt. "Do you know Mosby, General?" Mosby asked. The General replied "Yes! Have you got the rascal?" "No," said Mosby. "He's got you!"
Along with the soldiers, Mosby and his men discovered a cache of treasure looted by the Union soldiers from local homes. As legend has it, it was gold, silver, and other valuables worth hundreds of thousands of dollars, a massive sum for the day.
The North always had the advantage in money and resources, so this treasure could have gone a long way to helping the South. Yet it was not to be. Before Mosby could get his prisoners and plunder to safety, he got word of a large Union detachment headed their way. Presumably needing to lighten their load to speed their escape, Mosby ordered his men to bury the treasure between two large pine trees, a spot he marked with knife.
For whatever reason, Mosby never returned to try and retrieve the treasure he'd hidden. By all accounts, all that gold and silver is still here. I'd imagine the two large pine trees are long gone, but if you find the knife Mosby used as a marker, you're probably getting close.
#buriedtreasure #losttreasure
Media:
Air Prelude by Kevin MacLeod is licensed under a Creative Commons Attribution 4.0 license. https://creativecommons.org/licenses/by/4.0/
Source: http://incompetech.com/music/royalty-free/index.html?isrc=USUAN1100337
Artist: http://incompetech.com/