COLONIAL RELICS in Maine | Treasure Hunting with friends
COLONIAL RELICS in Maine | Treasure Hunting with friends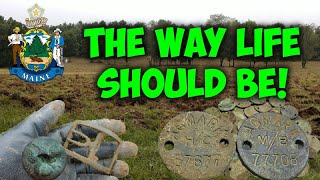 Invited to Maine, Jim and I met up with friends to do some detecting. Stories of Native American artifacts, military buttons, silver relics and coins litter the permission site. Join me and my buddy alongside Laura, Amanda and Jon as we attempt to unearth and defend Maine history in this episode with DetectEd Outdoors.
Special thanks to: Jon Hernandez & Amanda Digger Degaz also known as @adiggerdegaz on Instagram and on YouTube at:
https://m.youtube.com/channel/UC5t-yPdECAJaazG_NZ36V9Q?itct=CCYQ6p4EIhMI_8DGpceV5AIVL6ucCh2vmglN&csn=wg5eXdH0AszN8wSZ2oZQ&wlfg=true
Appearance by: Laura Schooley aka @she_digs_nh on Instagram
Jim's Instagram and YouTube:
@montshiredigger
https://www.youtube.com/channel/UC4CTx6ehdpnB6KgSoM6KbgA
**Special**
Fisher Research Labs product code coming soon!!
Teknetics product ordering code: A1535
Discounts and/or FREE shipping available now.
Perfect for beginners and seasoned Detectorists!
https://www.tekneticsdirect.com/
Use code to receive the following discounts (See Below)
Use code for $50.00 off and free shipping on following equipment: -PATRIOT
-LIBERATOR
Clearance Models:
MINUTE MAN Drops price from $249 to $149 and free shipping!!! For the following product use code 'A1535' to drop the MSRP price to MAP and get free shipping on: • ALPHA
• DIGITEK
• DELTA
• DELTA-10DD
• DELTA-11DD
• GAMMA
• GAMMA-11DD
• OMEGA
• OMEGA-11DD
• OMEGAPRO
• OMEGACC
• T2
Code 'A1535 triggers free shipping on following products: • G2+
• G2+LTD
• G2+LTD-P
• ETEK-SKD
• ETEKPRO-SKD
• ETEKPRO11DD-SKD
Thank you for watching and please SUBSCRIBE and click the notification bell below so you don't miss another video!
My Instagram: @DetectEdOutdoor3
For more METAL DETECTING in New England, please subscribe and follow us on Facebook @ :
All Metal Militia
https://www.youtube.com/channel/UCtI2ITrfeRB6rDc73_F2PtA/featured