Dalton Gang Coffeyville Kansas and Jesse James Buried Treasure, Knights of Golden Circle Signs
Dalton Gang Coffeyville Kansas and Jesse James Buried Treasure, Knights of Golden Circle Signs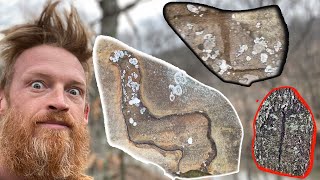 It was told that the Outlaw Jesse James rode through here many of times and I am going to see and cannot believe some of the markings. With the weather taking a turn for the worse, I decided to go looking for buried treasure on our Homestead, but did not expect to see as much as I did. This 75 acre off grid property has been in the family since 1976 and many of rumors and speculation has taken place.
I want to continue to look for buried treasure and see what other markings I can locate on the property, I will need help along the way and I even ask for some help in this video. I was going out to have fun and found enough signs to make me wonder if it is real or fake.
OUR MISSION: The main focus of our YouTube channel, Dorothy's Hobby Farm, is to provide future generations with a living history if you will. Video's they can watch and experience our history, first hand, from our perspective.
—Dorothy & Russ
FOLLOW OUR JOURNEY:
Subscribe to Dorothy's Hobby Farm:
YouTube: https://www.youtube.com/channel/UCofZoQLzdnfyfxRkdMQPDww?view_as=subscriber
Patreon: https://www.patreon.com/dorothyshobbyfarm
SOCIAL MEDIA:
Facebook: https://www.facebook.com/groups/257685811443165/
Instagram: https://www.instagram.com/dorothyshobbyfarm/
SUPPORT OUR CHANNEL:
TeeSpring: https://teespring.com/stores/dorothys-hobby-farm?aid=marketplace
RUSS & DOROTHY: We are high school sweethearts that have been married for over 20 years now. Russ enlisted in the United States Army, and after a 10 year career, was medically retired due to injuries sustained during a deployment to Afghanistan.
Our two daughters grew up "military brats" always moving. Dorothy also grew up moving around a lot, although not military related, and always wanted to leave a place behind a place for her kids, and future generations, to always call home.
We decided it was also the perfect time to, not just leave behind a FAMILY FARM, but why not a video HISTORY documenting our move as we go from off grid living in Colorado, to leaving behind our legacy, building a TINY HOME on FAMILY LAND, in Kansas?
#jessejames #buriedtreasure #happyoffgrid