Dangerously Low Levels Of The Mississippi River – Exposing Valuable Treasure On Its Banks
Dangerously Low Levels Of The Mississippi River – Exposing Valuable Treasure On Its Banks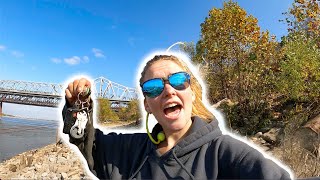 The water levels are low and it's exposing numerous valuables and treasures on the shore of the Mississippi River! We walked the steep rocky banks picking up valuable treasure and metal just sitting on the bank of the river! Another term for walking the banks is mudlarking! It was a crazy day! We spent many hours in one section and it was very physically intense and exhausting! #cleanstreammovement
🧲 Shop Magnet Fishing Products Here:
https://battlemagnets.us
use code: Emmie10
☀️What Is Magnet Fishing?
☀️Magnet fishing is a new form of treasure hunting where you use a giant magnet and throw it in the water and see what you can find! We end up finding some crazy things!
☀️About Adventurous Emmie
Hey, my name is Emmie! Welcome to my channel! I'm super excited you are here! I'm a magnet fisherman(woman), a scuba diver, a treasure hunter, and an all around adventure seeker! Thank you so much for your support!
☀️Follow me on my other social media's to stay in the loop:
☀️Instagram: https://www.instagram.com/adventurousemmie/
☀️TikTok: https://www.tiktok.com/@adventurousemmie
☀️Facebook: https://www.facebook.com/adventurousemmie/
☀️New to the channel? Subscribe to come along all of our wild adventures!
☀️https://www.youtube.com/c/AdventurousEmmie
☀️Have any questions? Feel free to email me anytime! I'm always open to discussing collaborations, sponsorship, product reviews and more! Email: adventurousemmie@gmail.com
☀️Thank you for watching the most recent video: Dangerously Low Levels Of The Mississippi River – Exposing Valuable Treasure On Its Banks