Drone finds missing person in North Carolina
Drone finds missing person in North Carolina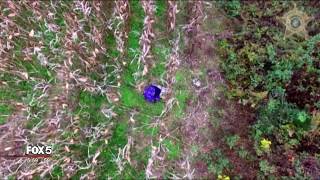 Deputies in North Carolina use a drone to help find a missing woman.
An 81-year-old woman who has dementia disappeared from Asheboro, North Carolina on Sunday morning.
Deputies and a K-9 unit searched the surrounding area, but ran into trouble because of difficult terrain and a large surrounding cornfield.
So, deputies decided to launch the department's drone.
From above, they quickly found the woman.
They said her purple jacket was easy to spot in the middle of a cornfield.