Dynamite! An Alaska Gold Mine Frozen in Time.
Dynamite! An Alaska Gold Mine Frozen in Time.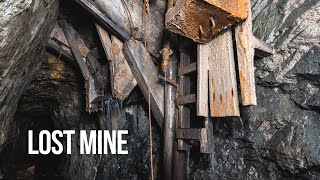 Support me on Patreon! https://www.patreon.com/minesofthewest
TVR's Video: https://www.youtube.com/watch?v=0YeMC5h7Gc8&t=914s
There's nothing better than walking into a mine that hasn't been explored in decades. But normally, mines that meet this criterion are difficult to access because they're collapsed, very remote, or require vertical gear and expertise. Well the Yukon Mine has been left alone for a different reason. Much of this mine's 5,000 ft. long crosscut adit is half-filled with solid ice. Treacherous ice. The ice was rock hard, ice cold (duh), and was embedded with small abrasive rocks that had fallen down from the back. Oh and the effective height of the tunnel was only 3 feet… Needless to say, the 2,000 ft. journey through the ice-filled adit was excruciating, but also comedic in hindsight. After 2,000 very long feet, the ice dissipated and we were able to walk normally again for about 100 ft. before finding over 3 ft. of water dammed up behind a blockage. What fun!
Well after another 3,000 ft. of deep water, we found ourselves above the water level and on a nice, sturdy drift. Luckily for us, our troubles were well-worth the rewards we were about to find. This drift appeared to be frozen in time, just like the ice-filled haulage adit but in a metaphorical sense. We found tools, 1940's equipment, dynamite and even a large tool skip! We were glad to have the rare opportunity to document a mine that may never be explored again, with how horrible the access is.
I hope you enjoyed! Please like and subscribe for more content!
#minesofthewest #urbex #abandonedmine #mineexploring #abandoned #mining #exploring #desert #travel #history #adit #shaft #underground #minerals #silvermine #goldmine #exploringabandonedmines