Escape the Sneaky Spy with Ninja Kidz TV! Mysterious Treasure Map Storytelling Adventure!
Escape the Sneaky Spy with Ninja Kidz TV! Mysterious Treasure Map Storytelling Adventure!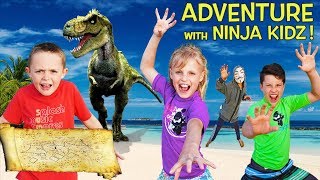 Escape the Sneaky Spy with Ninja Kidz TV! Mysterious Treasure Map Storytelling Collaboration Adventure! Deep in a mysterious jungle overseas, Kaden searches for treasure with a magical map. The map mysteriously changes and he finds himself entangled/wrapped up in a crazy series of incredible adventures. Will he find the treasure? Or will Kaden discover that he's being followed by a sneaky spy who wants the treasure! Kids Fun TV teams up with Ninja Kidz TV to solve this fun and sneaky mystery! Will Jack and Kaden escape the many challenges presented by the map? Will the Fun Squad overcome the twists and turns that mysteriously arise on their search for treasure? Confronted by imaginative adventures – the boys encounter a dinosaur, a genie, a tiger, a tricky spy and a series of clues they must solve in order to follow the map and win the treasure! Will the Ninja Kids help save the day and unveil the hooded spy?
The story unravels to reveal that the Fun Squad are playing an imaginative storytelling game called Spark. Each player uses the cards in the game to participate in group storytelling. The vision and imagination of each player changes the direction of the game, presenting challenges that can be solved or morphed at the whim and creativity of the players. The players take a joint ride on an incredible storytelling adventure that unveils the creative spark in each.
We had so much fun doing this awesome colab video with Ninja Kidz TV! Check out their awesome channel to see their awesome videos:
https://www.youtube.com/channel/UCpZ88DWlKW0H_AYDaUZptcw
Check out the awesome collaboration video Ninja Kidz TV did on their channel with Kids Fun TV! They did an awesome storytelling video with the Spark game also! Check it out here:

Watch our last awesome Shazam Superhero video here:

Check out our last awesome colab video we did with Ninja Kidz TV here also:

Check out our very first awesome collaboration video we did with the Ninja Kids here:

Subscribe to our awesome channel:
https://www.youtube.com/c/KidsFunTVEpic
Check out our Kids Fun TV social media pages:
Instagram: https://www.instagram.com/kidsfuntv321/
Facebook: https://www.facebook.com/kidsfuntv321/
Kids Fun TV:
Kids Fun TV is a fun family friendly channel for kids. The kids love to have fun and be silly. Whether its challenges or fun skits, the kids love to have fun and play. We have lots of boys vs girls challenge videos as well as twin vs twin challenges. We love box forts, toys and playing fun and exciting games. The kids from Kids Fun TV are very good friends with the kids from Ninja Kidz TV, so we have several family friendly videos for kids. The children love to have lots of family fun as they do their skits and challenges. These funny kids love to have fun and play.
WARNING: This video is only for entertainment purposes. Do not attempt to recreate any of the acts in this video, as they may be dangerous if not done correctly, and could result in serious injury. If you rely on the information portrayed in this video, you assume the responsibility for the results. Have fun, but always think ahead, and remember that every project you try is at YOUR OWN RISK.
This footage is the property of Kids Fun TV and is not allowed to be repurposed without written consent from Kids Fun TV. For any media requests contact us at kidsfuntv321@gmail.com .
#kidsfuntv #escapethesneakyspy #ninjakidztv