EXPENSIVE RARE BLUE CRYSTALS IN ARKANSAS!! – (FREE DIG SITE)
EXPENSIVE RARE BLUE CRYSTALS IN ARKANSAS!! – (FREE DIG SITE)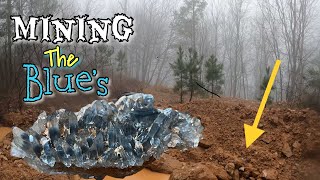 Blue Crystals can be found in Arkansas at a free digging site called Crystal Vista. It's a huge tailing pile left over from the military that was mining Arkansas's mountains 50 plus years ago. They left lots of goodies for you and me. Like Blue Crystals!
There is no camping allowed, but you can bring digging tools, and there is no limit you can haul down the mountain. It's also opened 24/7-365 days out of the year.
I hope you all enjoy the video.
Thanks for the support!
👇Arkansas Diamonds Giveaways 👇
Become a Patron, and benefit yourself! Patrons. https://www.patreon.com/diamondminerivins
Another Arkansas Diamond GAW @20,000 Subscribers!!💎🎉
👉Join this channel to get access to perks:
https://www.youtube.com/channel/UCa0q82Ru1k_Lp8khJ1DLI0A/join
DMI Classifiers: https://www.ebay.com/itm/254630771292
Unsearched Heavy Minerals/DMI Paydirt: https://www.ebay.com/itm/254377264984
Ebay Store: https://ebay.com/usr/diamond_miner_ivins
DMI Merch now available https://teespring.com/stores/dmi-merch
If you would like to send me fan mail, with a shout out on my videos sent to address below. (No Drugs, or Body Parts)
Diamond Miner Ivins
P.O. Box 328
Saint Jo, Tx 76265
Music: If everything was good (Feat. Mimi Bay)
Musician: Silicon Estate
#bluecrystals #blue #phantom