Exploring Montezuma's Mine – Southern Utah
Exploring Montezuma's Mine – Southern Utah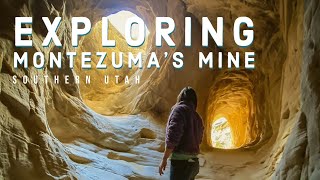 Video Notes: I added captions for the quieter parts, so that is why some subtitles appear in only a few spots in the video. I also edited out the VERY loud portions in the video. So when you don't hear music or our voices, it's because I muted the the video and saved all of our eardrums! 🙂
—————————————————————————————–
This was a fun adventure and we had no idea what to expect when we went there! In my mind, I imagined the tunnels going several hundred feet, but in actuality there are only about 150 ft. worth of tunnels. Some people believe there is a large cave at the end of the tunnels, but the tunnels were so narrow that it was impossible for us to continue down them. And, we didn't want to get even more sandy 😉
We didn't find gold, but we loved living the history!
—————————————————————————————–
The Legend of Montezuma's Gold
(There are several versions of this legend. I have pieced together a few of them for this video)
About 500 years ago, the Spanish Conquistadors invaded the land of the Aztecs in what is now known as Mexico. The Aztecs reportedly had so much gold that the Spanish were shocked that it was seemingly everywhere. Of course, the Spanish wanted this gold and soon their desire turned to lust. Seeing this lust, the king of the Aztecs, King Montezuma (also spelled Moctezuma), had a group of people and soldiers bring as much of it as possible to the Aztec Homeland: Aztlan.
Some people believe that the Aztec's homeland is located in the area surrounding present day Kanab, Utah. The Aztecs travelled extremely far with much gold to get to this area and they dug tunnels in the sandstone mountains to hide their treasure. They supposedly carved petroglyphs as hints near the tunnels for anyone who would be searching for the gold.
Around the 1900s, a man by the name of Freddy Crystal was convinced that the Aztecs had hid their treasure near Kanab, Utah. He came into possession of a treasure map that showed the geography of what Freddy thought was the Kanab area! He followed the map to a place just outside of Kanab and found what appeared to be a tunnel sealed with stone and mortar. Using the only tools he had at the time, he used a pocket knife to break through the mortar. It proved too difficult and Freddy went to the town of Kanab to recruit any and all to help him retrieve the gold. It is said that 3/4 of the town came to his aid and helped clear out the tunnels that were backfilled with sand. They supposedly found bones and beads, but no gold.
So, the legend lives on to this day. Was the Aztec gold really hidden in the mountains of Kanab? We may never know! It is a fun place to explore and you should check out these other links for further reading. Also check out our own post on The Trek Planner!
Trek Planner Trek
Anyone can view this small Blog Shot post that we have on the mine:
Need to be an Insider Member to view the entire post:
Montezuma's Treasure
https://www.thespectrum.com/story/life/2014/12/20/montezumas-lost-treasure-really-kanab/20711001/
https://www.kanabguide.com/articleDetails.cfm?recordID=37
https://visitsouthernutah.com/blog/the-wild-100-year-search-for-montezumas-treasure-in-kanab-utah/