Finding Worlds Best Iridescent Hematite Crystals | Graves Mt. Georgia
Finding Worlds Best Iridescent Hematite Crystals | Graves Mt. Georgia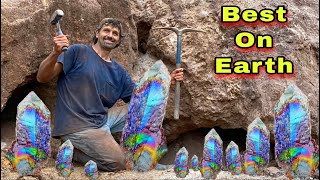 #crystals #gemhunting #exploring
The Crystal Collector Visit graves mountain in Georgia! At this location you can find some of the worlds best rutile crystals and iridescent Hematite on earth! On this episode the Crystal Collector set out insight for some iridescent Hematite and ended up finding some hematite coatings on quartz crystals, even better! Check out facebook to locate the "graves mt open house" events that occur twice per year! They are open to the pubic for the two events!
For awesome giveaways from these locations and inside scoops on the latest dig locations and invites with the crystal collector, please check the Facebook supporter page, it's only $.99 per month and it really helps to support the crystal collector in his journeys! Link below
https://www.facebook.com/groups/405946380113012/?ref=share
To purchase some of the crystal Collector finds check out the eBay store link below and the ultra rocks Facebook page!
https://www.ebay.com/str/ultrarocks
https://www.facebook.com/Ultrarocks-250219189749/