First Test Hole in Alaska | Gold Rush: Dave Turin's Lost Mine
First Test Hole in Alaska | Gold Rush: Dave Turin's Lost Mine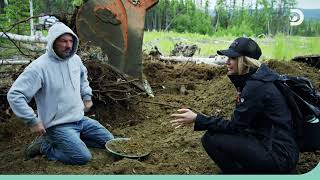 Dave digs into the first test hole in Alaska, where miners historically found gold nuggets. But it's been hours… will they find any at all? Find out more at www.discoveryseasia.com.
=======
Want updates? Subscribe to http://bit.ly/2daokw6
About Discovery Channel:
Discovery Channel brings you the best of real-world entertainment that is both visceral and experiential. We make you lean forward, as you journey with us across the globe, with compelling stories and engaging characters.
Facebook: http://www.facebook.com/DiscoverySEAsia
Instagram: https://www.instagram.com/discovery_seasia/