Found $20,000 of Lost Gear Under Drunk Tubers! – Scuba Diving (Treasure Hunting)
Found $20,000 of Lost Gear Under Drunk Tubers! – Scuba Diving (Treasure Hunting)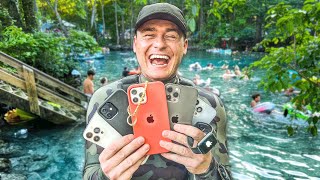 Lets see what we can find underwater at Ginnie Springs during Memorial Day 2022!
Subscribe to @PaleoCris for more treasure related videos!
Bigblue Dive Lights | Underwater LED Dive Lights | Scuba Lights: https://bit.ly/3xXZsSt
Buy my official merch here: https://RiverTreasure.com
I'll use 100% of the money to pick up more trash and return lost valuables to their owners for free!
Follow me on all social media!
Merch: https://RiverTreasure.com
Facebook: https://www.facebook.com/DALLMYD
TikTok: https://www.tiktok.com/@DALLMYD
Instagram: https://www.instagram.com/DALLMYD
Twitter: https://twitter.com/DALLMYD
Lost something and would like me to find it? Send me an email describing what you lost, when you lost this item and the location it was lost. Please keep in mind I receive a lot of emails. Only send an email if you truly need my help. If I choose to find your lost item I'll do it for free! Email me at: FindMyLostValuables@yahoo.com
Have any questions? Feel free to email anytime! I'm open to discussing about sponsorships, collaborations, product reviews and more!
Email: dallmyd@nightmedia.co
Want to mail me something? If so, here's my address!
My PO Box
DALLMYD
P.O. Box 211
Phenix City, Alabama 36868-0211
About DALLMYD:
Hello! My name is Jake. I'm a treasure hunter, scuba diver and YouTuber w/ 12,000,000+ subscribers! I enjoy traveling to new destinations to see what I can find and sharing my adventures on YouTube! New to my channel? Subscribe so you don't miss out on what I find next!
Recent Videos:
Diving For Modern Treasure in the Ocean! (Unbelievable Finds) https://youtu.be/OFzI_f1Y934
What Will I Find Scuba Diving Under World Famous Mallory Square? (DANGERS: Sharks) https://youtu.be/otrKgg7Eh5Q
Waterproof Metal Detecting Under $1,000,000+ BOATS! (DANGERS: Sharks) https://youtu.be/4lV08-K2ZO8
#GinnieSprings #RiverTreasure #ScubaDiving #ginnie #memorialday #TreasureHunting #Diving #Underwater #Florida #scuba #divingfortreasures
DALLMYD
https://www.youtube.com/user/DALLMYD
DIVERS SHOCKED at What They Find Under 100,000 People! ($20,000+) https://youtu.be/ZOOhencWxCQ