Found $75,000+ of Real Treasure Coins! (1715 Fleet Shipwreck Treasure)
Found $75,000+ of Real Treasure Coins! (1715 Fleet Shipwreck Treasure)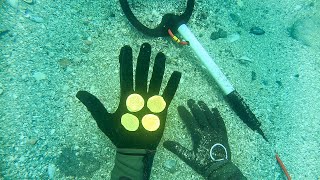 Install Raid for Free ✅ Mobile and PC: https://clik.cc/OK4Hl and get a special starter pack 💥 Available only for the next 30 days 💥
Thank you Raid for sponsoring this video!
Today we scuba dive for real treasure from the 1715 fleet of ships that sank to the bottom of the ocean during a hurricane!
More about Queen's Jewels:
https://bit.ly/3yD5Ltk
https://bit.ly/ChestofSilverFound
Huge thanks to the crew of the Mighty Mo: Milan "Choppy" Kalelkar and Tim "Ted" McManus
PREVIOUS VIDEOS:
Make-A-Wish: Braxton, 9 Years Old. (His Biggest Dream Came True) https://youtu.be/HK_1PIONSlw
FBI Agent Calls Me for Help! – Police Involved (Searching for the Killers Gun) https://youtu.be/LsAb2CPThDU
This Pond Holds a Terrible Secret! – Police Called (Magnet Fishing) https://youtu.be/aBHbG7qWIeQ
Found $50,000 of Aquamarine Crystals! – Unbelievable Find (Location: PRIVATE MINE)

Follow me on all social media!
Facebook: https://www.facebook.com/DALLMYD
TikTok: https://www.tiktok.com/@DALLMYD
Instagram: https://www.instagram.com/DALLMYD
Twitter: https://twitter.com/DALLMYD
Have you lost something and would like me to find it? Send me an email describing what you lost, when you lost this item and the location it was lost. Please keep in mind I receive a lot of emails. Only send an email if you truly need my help. If I choose to find your lost item I'll do it for free! Email me at: FindMyLostValuables@yahoo.com
Have any questions? Feel free to email me anytime! I'm open to discussing about collaborations, sponsorships, product reviews and more!
Email: dallmyd@nightmedia.co
Want to send something to me in the mail? If so, here's my address!
My PO Box
DALLMYD
P.O. Box 211
Phenix City, Alabama 36868-0211
About DALLMYD:
Hello! My name is Jake. I'm a treasure hunter, scuba diver and YouTuber w/ 12,000,000+ subscribers! I enjoy traveling to new destinations and sharing my adventures on YouTube!
Video filmed by Joseph: https://bit.ly/2WSECRs
Check out my top 10 videos! Playlist: https://goo.gl/o7xFC4
Found Jewelry Underwater in River While Scuba Diving for Lost Valuables! (Unbelievable) https://youtu.be/-jSirHVQAOk
I Found 8 Guns, 7 iPhones, 6 GoPros, and 5 Apple Watches Underwater in the River! Best Finds of 2018 https://youtu.be/Rqctpam4o0o
Found Lost iPhone, Fishing Pole and Swimbaits Underwater in River! (Scuba Diving) | DALLMYD https://youtu.be/dPTglkp4Lpw
I Found 9 Wedding Rings Underwater in the Ocean While Metal Detecting! $10,000+ (Returned to Owner) https://youtu.be/a5vg_Yi42Ok
I Found a Fidget Spinner, 5 Phones and a Bike Underwater in the River! (Scuba Diving) https://youtu.be/yOjmWlPMF9g
Found Lost iPhone 7 in River While Scuba Diving! (w/ Girlfriend) | DALLMYD https://youtu.be/Y3JE4_c_-PI
Found Possible Murder Weapon Underwater in River! (Police Called) https://youtu.be/eAmn4pxIclc
Found Rare Amethyst Crystal While Digging at a Private Mine! (Unbelievable Find) https://youtu.be/MwAMiddqytE
Found Human Remains Underwater in River! (Police Called) | DALLMYD https://youtu.be/cQ8ia7PejfY
Found a Working iPhone X Underwater in the River! (Returned Lost iPhone to Owner) https://youtu.be/VfrsFd5NcCs
Found a Working iPhone X Underwater in the River! (Returned Lost iPhone to Owner) https://youtu.be/VfrsFd5NcCs
Found 3 GoPros, iPhone, Gun and Knives Underwater in River! – Best River Treasure Finds of 2016 https://youtu.be/UZHDwemAZ-k
#RiverTreasure #TreasureHunting #DALLMYD #ScubaJake #ScubaDiving #SpanishGold #Treasure #Found #MetalDetecting #1715 #1715Treasure
Found $75,000+ of Real Treasure Coins! (1715 Fleet Shipwreck Treasure) https://youtu.be/tbng2SxxjnM
DALLMYD
https://www.youtube.com/user/DALLMYD