Fresh Color 2020 – Black Hills – South Dakota – Gold Prospecting
Fresh Color 2020 – Black Hills – South Dakota – Gold Prospecting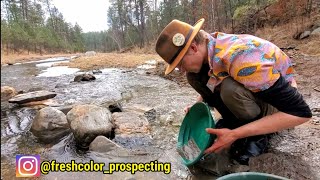 Hey Everybody, to start up our 2020 season we will be working the lower bench of bedrock to uncover some real nice gold pieces. I hope you enjoy this video and look forward to the new content to come.
2021 is right around the corner and I plan on posting new videos regularly! Thanks for all the views and support on the channel!
if you would like to see what I have been working on aside from gold mining, click this link here
https://youtu.be/wARGiTOZ5Ck to see the Black Hills Sun House!
Follow us on Instagram
https://instagram.com/freshcolor
_prospecting?igshid=1bgfs8swkn06k
Click to watch another video 👇
1-https://youtu.be/zAojzcZiU4Q
2‐ https://youtu.be/luGbIdK4wmI
Supersluice Gold Pan, 15″ https://www.amazon.com/dp/B000H82E2M/ref=cm_sw_r_other_apa_i_mTRBEbGAVVS4V
Keene Engineering A51 Mini Hand Sluice https://www.amazon.com/dp/B077F34JF2/ref=cm_sw_r_other_apa_i_KXRBEbG9D3ZEW
Thanks for watchin 👍 Subscribe 😉
#Gold #Prospecting #goldpanning #blackhills #southdakota #freshair #outdoors #nationalforrest #stayhome #newstuff #getout #freshcolor #digit