GEODE?!⛏💎 Why Did It Break?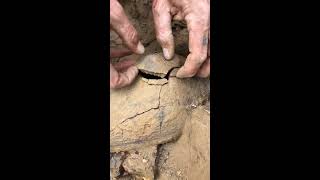 #shorts #geode #youtubeshorts #geology
💎FULL VIDEO HERE: https://youtu.be/k4rO4rySMwI
💎FOLLOW UP of GEODE CLEANED UP: https://youtu.be/f_ArpnaGPlY
Geodes are hollow, the whole inside is covered with amethyst and calcite crystals. This is the first time opening it up and most of the crystals are covered with an iron coating. I soak them in muriatic acid and cleaned them. there is a link for that video in the description of this video. You can see the crystals clearly.
Flashback! Take a peek inside of this GIGANTIC geode we found in central Washington a few months back! We were SO excited when we found it, but sadly it did not come out in once piece. If you like this type of content please check out my other videos to see more, this was just extra cell phone footage! Also sorry about the language, she was excited! 😉
What is the biggest geode YOU found?
💎⛏️THANK YOU for watching this video, we hope you enjoyed it! Please subscribe to our channel, if you liked a video give us a thumbs up so we know, and check out our other videos to see more of our adventures in the woods! ⇩ LINKS BELOW! ⇩ 💎
💎ONLINE STORE – Minerals, Merch, & More
Etsy – https://www.etsy.com/shop/QuartzCowboy
💎SOCIAL MEDIA
TikTok- QuartzCowboy
https://vm.tiktok.com/ZMJKuWQ6F/
Email – quartzcowboy@gmail.com
Facebook – https://www.facebook.com/QuartzCowboy
– https://www.facebook.com/BlueCandyAgate
Facebook Groups: Stoned Rockhounds, & Vuglife
Instagram – @quartzcowboy
@cowboywade
@ratdogmac