gold panning in vermont on broad brook in Plymouth
gold panning in vermont on broad brook in Plymouth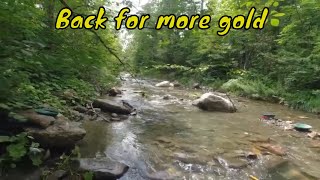 We are back at it gold panning in Vermont. We have a large crew today. Come join us as we find that precious yeller stuff.
Check out my new website: www.802outdooradventures.com
How about a tee shirt, hoodie or coffee mug. Check out out some of my offerings. More coming soon! Every little bit helps my channel grow.
https://my-store-11457156.creator-spring.com or order from the new website.
Green mountain gold trap: https://greenmountaingoldtrap.com/
Gold reaper: https://www.ebay.com/itm/Gold-Reaper-sluice-bazooka-knockoff-new-and-improved-easy-set-up-24/264915250410?hash=item3dae2decea:g:E3EAAOSwXeJey8PP
Good buddy wayne's store in Poultney VT: https://www.facebook.com/Rutlandtoyandhobby
For any other needs you may have please hit my affiliate link below. I do get a commission on sales through that at no extra cost to you. Thank you.
Kellyco affiliate link: https://shareasale.com/r.cfm?b=1330008&u=2306699&m=86070&urllink=&afftrack=0