HAUNTED BURIED TREASURE! Ghost Stories in Maryland
HAUNTED BURIED TREASURE! Ghost Stories in Maryland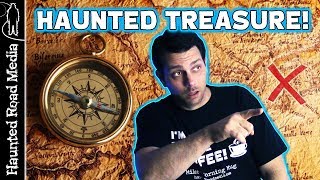 Real treasure has its ghost stories. It's the stuff of adventure and legend, and many of these buried treasures have a paranormal story to tell as well. I've covered a number of haunted places like this in my book Ghosts of Maryland, and this video covers five of them. Explore haunted Maryland with us!
FRIDAY NIGHT GHOST FRIGHTS are spooky, creepy ghost stories from Haunted Road Media — true paranormal and supernatural encounters, real storytime tales from personal experiences, paranormal investigations, and haunted history!
Paranormal publishing and video production is what we do. Welcome to our haunted world!
For more information about Haunted Road Media: http://www.hauntedroadmedia.com
Twitter: http://www.twitter.com/HauntedRoadMed
Facebook: https://www.facebook.com/hauntedroadmedia
More information about Mike Ricksecker: http://www.mikericksecker.com
Twitter: http://www.twitter.com/MikeRicksecker
Facebook: https://www.facebook.com/MikeRickseckerOfficial
Instagram: http://www.instagram.com/mikericksecker
This Haunted Road Media Friday Night Ghost Frights covers the following (spoilers ahead!):
Bigg Lizz
Silver Run Mine
Braddock's Gold
The Headless Peddler
Jug Monument
Bump in the Night – Supernatural Haunting by Kevin MacLeod is licensed under a Creative Commons Attribution license (https://creativecommons.org/licenses/…)
Source: http://incompetech.com/music/royalty-…
Artist: http://incompetech.com/
Inexorable by Kevin MacLeod is licensed under a Creative Commons Attribution license (https://creativecommons.org/licenses/…)
Source: http://incompetech.com/music/royalty-…
Artist: http://incompetech.com/