Hidden Star Symbol Points to Buried Treasure! | Gold, Lies & Videotape
Hidden Star Symbol Points to Buried Treasure! | Gold, Lies & Videotape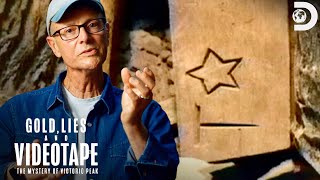 Stream Gold, Lies, and Videotape on discovery+ ► https://www.discoveryplus.com/show/gold-lies-videotape-us
#discoveryplus #goldliesandvideotapes
Stream Full Episodes of Gold, Lies, & Videotape
https://www.discoveryplus.com/show/gold-lies-videotape-us
About Gold, Lies, & Videotape
One family has been fighting the US government to recover a $28-billion treasure in New Mexico for over 80 years. Now, they're revealing hundreds of hours of footage to prove their case and discover the truth, once and for all.
Subscribe to Discovery:
https://www.youtube.com/@discovery
About Discovery:
Dedicated to bringing our viewers amazing stories and experiences from the world of science, natural history, anthropology, survival, geography, and engineering.
Find us on social
Facebook: https://www.facebook.com/Discovery/
Twitter: https://twitter.com/Discovery
Instagram: https://www.instagram.com/Discovery/
TikTok: https://tiktok.com/@discovery
Hidden Star Symbol Points to Buried Treasure! | Gold, Lies & Videotape
https://youtu.be/JHxtxd6qQaM