Hidden treasure in Michigan waters delivers 'one-of-a-kind' sound to Rock legends
Hidden treasure in Michigan waters delivers 'one-of-a-kind' sound to Rock legends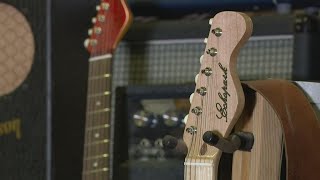 For the past few years, there's been a lot of news, discussion and attention given to what's believed to be an actual gold treasure laying somewhere on the bottom of Lake Michigan.
A Detroit man recently found some 'hidden treasure' in Muskegon Lake. It wasn't made of gold, but what's being crafted from it is becoming worth its weight in gold, evidenced by the long line of big and recognizable names from the Rock & Roll industry who are clamoring to get it.
It was the early 1980s. Gabriel Currie was living in Los Angeles, California, and growing into his teenage years. Like most children of the 80s, Currie had his favorite bands he listened to on cassette in his Walkman.
Read more: https://bit.ly/3slrbH1
➡️ Subscribe to 13 ON YOUR SIDE for exclusive content: www.youtube.com/13onyourside
➡️ Visit our website: 13onyourside.com
Follow 13 ON YOUR SIDE on social media!
➡️ FACEBOOK: facebook.com/13ONYOURSIDE
➡️ TWITTER: twitter.com/wzzm13
➡️ INSTAGRAM: instagram.com/wzzm13
We stand up for the community. We want to make life better for everyone. We celebrate all that makes West Michigan unique. We are 13 ON YOUR SIDE.