HIDDEN TREASURE: Race Cars & Relics at a Historic Drag Strip in Georgia
HIDDEN TREASURE: Race Cars & Relics at a Historic Drag Strip in Georgia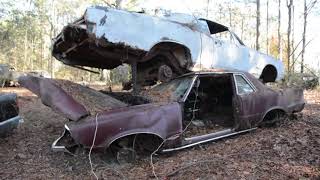 We go exploring in the woods and find hidden treasure at an old race track in Georgia. The Paradise Drag Strip property contains the remains of retired race cars and other old cars in the woods nearby. The track was built in 1961 by Otto Timms and continues on today with a great following of weekly racers. It's an awesome place with TONS of history, and it just happens to be loaded with automotive treasures.
#abandoned #racecars #hotrodhoarders
In this video, you'll see a few abandoned race cars, a Pro Street Firebird that's now pretty famous, and a CRAZY Corvette funny car tractor puller. As we hike into the woods, we find even more hidden treasure…dozens of cars packed away with trees growing through them and all around them. Some of the highlights include a 1957 Ford Ranch Wagon with old "Paradise Drag Strip" lettering on it, a neglected Nova drag car, several Tri-Five Chevys and more!
Please show your support by liking and commenting, and I invite you to SUBSCRIBE to see more of this type of content. Thank you for watching!
Subscribe here: https://www.youtube.com/c/hotrodhoarder?sub_confirmation=1
HOT ROD HOARDER Merch! https://teespring.com/stores/hot-rod-hoarder
Buy My Books!
Street Sleepers: https://amzn.to/2RZKjM6
Lost Drag Strips: https://amzn.to/34qRL5e
Detroit Speed's How to Build a Pro Touring Car: https://amzn.to/2M20sfW
Disclaimer: I am an Amazon Associate, so many of the links you see in my description allow me to earn money from qualifying purchases. Thank you for your support!