Idahonews.com Top Stories from around Idaho, and the US – February 7th edition
Idahonews.com Top Stories from around Idaho, and the US – February 7th edition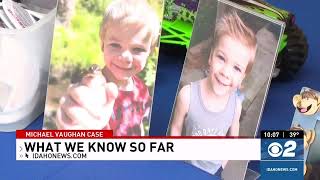 Firearms were prevented at a music festival, on public property in Sandpoint Idaho – which has led to an Idaho Supreme Court case over 2nd amendment rights. https://idahonews.com/
Former Caldwell Police Lieutenant has been sentenced to federal prison.
https://idahonews.com/news/local/former-caldwell-pd-lieutenant-sentenced-to-federal-prison
Update in the case of missing Michael Vaughan. Sarah Wondra, accused of failure to report a death to authorities, had an update hearing in court.
_______________
Follow KBOI on social media:
KBOI CBS 2 Boise News on Facebook: https://www.facebook.com/CBS2Boise/
KBOI CBS 2 Boise News on Twitter: https://twitter.com/cbs2boise
KBOI CBS 2 Boise News on Instagram: https://www.instagram.com/cbs2boise/
Subscribe to CBS2News on YouTube: https://www.youtube.com/user/UCY7YK4vT3kJMyT2izB4A80A/?sub_confirmation=1
Watch more top local news stories: https://www.youtube.com/watch?v=nklvJwwuf8M&list=PLYGAwgL4tCzUmMyJqBMwjOa7-LZwkhQwc
For all of the day's top local and national news, visit http://www.idahonews.com/
Watch our live newscasts and other live video at https://idahonews.com/watch
Have a news tip? Send it directly to us:
Email us: news@idahonews.com
Call the Newsroom: 208-472-2222
KBOI CBS 2 Boise News covers news, sports, traffic, and weather in the Treasure Valley and Boise, Idaho and nearby communities, including Meridian, Nampa, Garden City, Caldwell, Kuna, Middleton, Eagle, Mountain Home, Star, Melba, Payette, Weiser, Horseshoe Bend, Idaho City, Marsing, Homedale, Parma, New Plymouth, Murphy, Fruitland, Emmett, Wilder, Notus, McCall, Cascade, Donnelly, Council, and Vale, Oregon, and Nyssa, Oregon, Ontario, Oregon.
#KBOI #CBS2Boise #IdahoNews #BoiseNews