Incredible RELICS found while Treasure Hunting in New Hampshire
Incredible RELICS found while Treasure Hunting in New Hampshire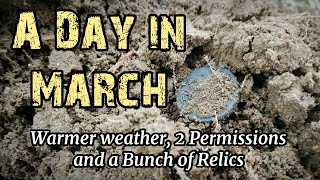 Prior to any stay home or social distancing advisories were implemented, Joe (Granite Digger) invited me and Jim out to a couple of his local permissions for a day of metal detecting. Very early in March, the sun was bright and the warm air was welcoming, especially after a long and hard winter.
Join us in this episode as we search two different sites for relics lost in time. Coins, buttons and many other relics come out of the ground this day including an appearance from 3 majestic winged friends.
What will we find? Tune in and see everything the day offers us here in the Connecticut River Valley.
Thank you for watching. Please SUBSCRIBE and click the notification bell so you don't miss another episode!
DETECTED OUTDOORS STORE:
https://detected-outdoors.creator-spring.com/
Josh Kimmel (Beyond Sight & Sound Podcast) Every Sunday and Wednesday on Spreaker.
YouTube Archive: https://www.youtube.com/user/stringfrenzy
Beyond Sight and Sound Merchandise:
https://detectees.onlineweb.shop/Beyond_Sight_and_Sound/p5708246_19397084.aspx
Joe's Info:
Instagram
@granite_digger
Jim's YouTube channel:
https://www.youtube.com/channel/UC4CTx6ehdpnB6KgSoM6KbgA
My Instagram: @DetectEdOutdoor3
Facebook: DetectEd Outdoors
For more METAL DETECTING in New England, please follow us on Facebook and Instagram:
FB: All Metal Militia
IG: All.Metal.Militia
Stay Safe & Happy Hunting!