Incredible Treasure FOUND in Mysterious Frenchman's Creek | Metal Detecting Adventure
Incredible Treasure FOUND in Mysterious Frenchman's Creek | Metal Detecting Adventure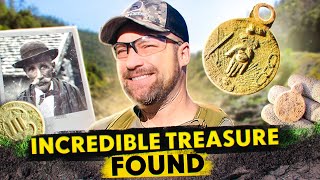 A two day Metal Detecting adventure into the woods at an area the guys call Frenchman's Creek. There was lot's of Incredible Treasure Found along the way. Nobody seems to know any proper names for the area as it would have been referred to in the days of the California Gold Rush. It's a very mysterious area with lots of caves, shafts and a thriving Mountain Lion population! Mark meets up with a few buddies and some incredible finds are discovered throughout the adventure. One of the last times the guys can get into these areas before the grass grows back with vengeance and the Rattlesnakes come topside to roam the territory. You get to tag along as the video moves quickly from dig to dig discovering some epic Gold Rush Era Finds. Right at the end of day two, many treasures are found Mark discovers a couple items that have always been at the top of his wish list!
For Business Inquiries ONLY Please Email: TreasureBoxGuy@gmail.com
# brassmedic #california #relics​ #metaldetecting
About Treasure Box With Mark "Brass Medic" Dayton:
Mark Dayton is a professional treasure hunter since 1984 and searches for treasures all up and down the West Coast of the USA. He is a retired Firefighter Paramedic and also spends his time as a busy professional musician. His adventures take him to many locations out West where he looks for all types of treasures. In each adventure he teaches you all of the tips and techniques to be a successful treasure hunter. He gets his nickname of the "Brass Medic" because he restores and does museum quality conservation on old brass relics that are bent or broken. Join along on all of his adventures right here on YouTube!!
EPIC Metal Detecting Finds, Lost 1850's California Gold Rush Camp: https://youtu.be/ljzFUd9gZIY