Insane Finds at Florida's Best Flea Market and Antique Store- Renninger's Mt Dora- Ep: 161
Insane Finds at Florida's Best Flea Market and Antique Store- Renninger's Mt Dora- Ep: 161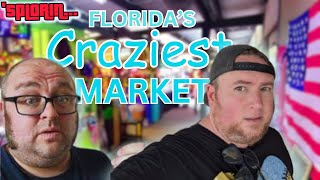 Dive into the vibrant world of Florida's best flea market and antique store! Alongside Jacob the Carpetbagger, we venture into the heart of Renninger's Twin Markets in Mount Dora. From rare antiques hidden in the vintage streets to unique finds in the bustling flea market, we uncover the treasures and stories that make this spot a must-visit destination. Experience the captivating ambiance, meet quirky vendors, and witness a diverse collection of offerings that only Renninger's Mt Dora can provide. Whether you're an avid collector or just looking for a memorable adventure, this is a journey you won't want to miss. Join us today as we do JUST a little 'Splorin!
Watch Jacob's video here: https://youtu.be/AEwEP_ud778?si=fbRVXPCPnScYJh1T
#RenningersMtDora
#FleaMarketFinds
#AntiqueHunting
#FloridaAdventures
#JacobTheCarpetbagger
Hey there intrepid YouTube viewer, thanks for deciding to join us for just a little 'Splorin!
If this is your first time here, can I humbly request that you hit the "subscribe" button and maybe even click that little bell shaped icon?
Join the community if you feel so inclined : https://www.facebook.com/groups/311923869341915/
Grab a fashionable piece of Splorin apparel : http://shop.spreadshirt.com/splorin-ryan