Large Gold pickers in Indiana. Best Indiana Gold Dredging Midwest Dave Gold Prospecting
Large Gold pickers in Indiana. Best Indiana Gold Dredging Midwest Dave Gold Prospecting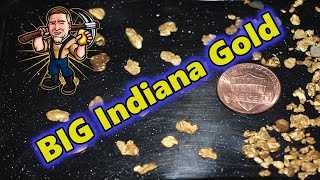 #GoldPanning#FindingGold#GoldDredging
Make sure you subscribe to win big prizes !
Midwest Dave's Gold Prospecting and Richard Holley spend a Spring weekend in Lafayette, Indiana, dredging Wea Creek for fine gold, flakes and small nuggets. As always, a lot of glacial gold, including some nice pickers were found. Dave also shows total Indiana gold finds for 2018 and 2019, years where the Honey Do list was too long and the dredging trips were rare and too short.
Please watch our entire Alaska Gold Series: https://www.youtube.com/watch?v=9J1jQ4i0XWg&list=PLKzTLm-OTihXmwSrmgAntsaFV9f2_oqQD