Livin' the Dream With YouTube's Most Popular Treasure Hunter
Livin' the Dream With YouTube's Most Popular Treasure Hunter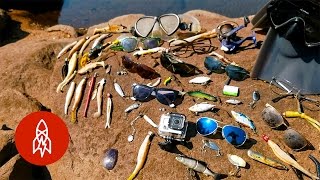 Jake Koehler is a pretty regular dude — he loves surfing, fishing, freediving and hanging out at the Chattahoochee River in Columbus, Georgia. Jake's found a lot of cool stuff on his dives, from GoPros and iPhones lost by rafters to knives and pistols (that were, of course, turned over to the proper authorities). Jake started filming his diving adventures, and his river treasure hunting videos have really taken off. Like, REALLY. His YouTube channel (https://www.youtube.com/user/DALLMYD) has 1.4 MILLION subscribers, and he's been able to make diving and creating his videos a full-time job. Not too shabby for a day on the river, right?
SUBSCRIBE: https://goo.gl/vR6Acb
This story is a part of our Planet Earth series. From mammals to insects and birds to reptiles, we share this great big world with all manner of creatures, large and small. Come with us to faraway places as we explore our great big planet and meet some of its wildest inhabitants.
Follow us behind the scenes on Instagram: http://goo.gl/2KABeX
Make our acquaintance on Facebook: http://goo.gl/Vn0XIZ
Give us a shout on Twitter: http://goo.gl/sY1GLY
Come hang with us on Vimeo: http://goo.gl/T0OzjV
Visit our world directly: http://www.greatbigstory.com