Local treasure! Flandreau Bakery and Coffee Bar, South Dakota
Local treasure! Flandreau Bakery and Coffee Bar, South Dakota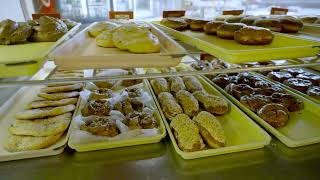 The story of nearly 100 years of hometown baked goods. Flandreau Bakery and Coffee Bar, located in Flandreau, SD in the Sioux Falls Region.
©2022 cabin6films.com
Hardest part, when that alarm goes off in the morning. You know what, just, you gotta push through that and get to going. My name's Marty Parsley and I'm the owner of the Flandreau Bakery and Coffee Bar. The Flandreau Bakery and Coffee Bar was started in 1930 by Mel Duncan. And it's been a family-run business ever since. And it's just a treasure for the town of Flandreau. In fact, I remember, one of my childhood memories was sitting at this bar with my dad having a sugar donut. So this is a very special place. When I heard they were closing, and it was going to be in a very short period of time, I just thought, Flandreau is going to be out a treasure, and I just wanted to give something back to Flandreau and keep the bakery open. And so we just jumped at the opportunity to buy it. This is not an easy business. My brother-in-law told me if it was easy, everybody would be running one. But it's not an easy business. What keeps me going is when people come in and say, "Thank you, thank you, thank you for keeping the Flandreau Bakery open." Even a bad day turns good. The Flandreau Bakery is very small, very low-key, mom and pop operation. We make everything you expect to find in a bakery. One of the things that's special is, everything here is made from scratch. It's all done by hand. We've got things here that you're just not gonna find anywhere else. I think the reason people choose the Flandreau Bakery is 'cause we've got a great product at a very reasonable price. What more you looking for? So if you're looking for a taste of home, come on by, or look us up on flandreaubakery.com.