Lost Cherokee Gold Just Waiting To Be Found
Lost Cherokee Gold Just Waiting To Be Found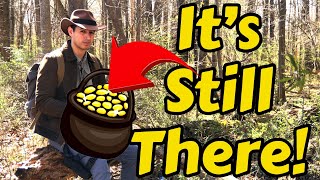 We often hear stories of lost gold here in the mountains of Georgia or other far off places however this is one story that is almost certainly true.
During the 1800's the Cherokee were forced out of their home due to the Treaty of New Echota. This treaty was only ever put into existence due to the discovery of Gold in Cherokee Nation. During the years leading up to the trail of tears the Cherokee knew they wouldn't be able to take everything with them.
They decided to hide their jewelry, and valuables that also consisted of gold. They hid these things in jars and pots and buried them around their villages so that they may one day and reclaim their lost valuables.
You may believe the story of Lost Cherokee Gold to be nothing but a myth but what if it were true? It sure does seem to make a lot of sense. During this time the Cherokee knew they would only be able to carry a certain amount of things while they were forced on the Trail of Tears. Their gold and valuables would not be their priority and almost certainly needed to hide their belongings to ensure their safety upon their return.
However, if this Lost Cherokee Gold were surely out there where could it be? I have a theory of how one could go looking for these jars of Lost Gold and perhaps even find them. While this is just a theory I still feel as though I should give a quick disclaimer.
If you go in search of this Lost Cherokee Gold then all your choices with the information you are given is entirely your own. While I have a theory that could lead you to fortune and glory it is entirely up to you to obtain and search for all things of intrinsic value legally and lawfully.
I hope you enjoy todays video on The Lost Cherokee Gold! If you enjoy these kinds of videos of history folklore and that little grey area where the two meet be sure to subscribe! Also if you're looking for more adventure be sure to check out my buddies website where he lists out all kinds of other lost treasures!
AreasGrey.com 🏴‍☠️
Be sure to checkout the Patreon here!
⬇️ ⬇️
⬇️ ⬇️
https://patreon.com/AdventureExploreDiscover?utm_medium=clipboard_copy&utm_source=copyLink&utm_campaign=creatorshare_creator&utm_content=join_link
As an Amazon Associate, I earn from qualifying purchases.
GET YOUR BOOTS HERE: 🥾
https://amzn.to/3ZlyyPP
They come in Black, Coyote (what I wear), and tan.