LOST GOLD Mine Discovered in Utah
LOST GOLD Mine Discovered in Utah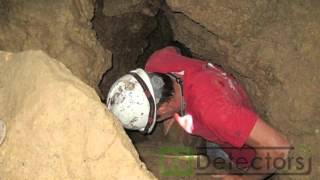 72 year old Gary Holt and his son say that they have discovered the long lost Josephine Mine in the mountains of North Eastern Utah.
The mine first appears in Spanish Jesuit documentation in 1650. Spanish priests worked the fabled mine for three decades, when in 1680 they were forced to abandon the mine after being driven out of the New Mexico Territory by the uprising Pueblo Indians.
The location of the mine has been lost ever since, though it has long since been believed that the lost mine was located near Hoyt's Peak in north Eastern Utah.
Lost or not the mine is said to be the most valuable gold mine in the world.
Mr. Holdt says he has yet to discover gold in the cavern, though he has obtained a mining permit and said he has pulled millions of dollars worth of calcite crystals from the shaft, which he markets as "Goldite".
Officials say that the "Goldite" mining operation is little more than a ruse to allow Holt to continue looking for gold.
Holdt says "the hunt for gold is still in active development"
Holdt suggests that the mine could contain 1.7 billion in gold ore.
What do you think, Has Holdt and son found the Lost Josephine mine or have they just lost their minds? Tell us what you think in the comments section below.
This presentation contains copyrighted material under the educational fair use exemption to the U.S. copyright law.