Lost Mines of the Ochoco Gold Rush
Lost Mines of the Ochoco Gold Rush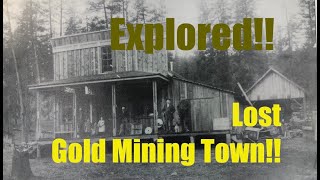 Lost Mines of the Ochoco Gold Rush
In this adventure I take you along as I explore the heart of the mining district that grew up during the brief gold rush in the Ochoco Mountains of Central Oregon. Let's see what evidence we can uncover while exploring the area where once was a thriving mining community. During the gold rush this area had hotels, general store, community hall, and massive mining camps and mine structures. The miners camped throughout the valley and prospected all over the surrounding hills. Most of the major mining activity was hardrock mining operations with extensive tunnels blasted throughout the surrounding mountains. The ore was brought down to ore processing plants along the creek at the bottom of the valley.
Hope you enjoy joining me to explore the lost mines of the Ochoco Mountains Gold Rush!
Join me on Coyote Works for other videos of overland car camping and exploring the remote Oregon back country looking for lost history!
Hope you all enjoy!
Cheers,
Casey
DONATE TO COYOTE WORKS – Increase your sex appeal while helping me maintain the independence of the Coyote Works YouTube channel. 100% of your contributions go directly to the creation of more content for you all to enjoy. Every dollar is much appreciated!
https://www.paypal.com/cgi-bin/webscr?cmd=_donations&business=VK6QKWM3S2UQU&item_name=To+support+Coyote+Works+continues+content+creation+keeping+it+free+and+accessible+to+everyone.&currency_code=USD&source=url
Coyote Works Merchandise – https://camplolo.com/collections/coyote-works-merch
Roof top Tents and Overland Gear – https://gofsr.com
Overland accessories and builds – https://camplolo.com/
Winches and Recovery Gear – https://www.warn.com/
High quality overland vehicle accessories – https://www.aev-conversions.com
Hand made knives – https://www.ckknifeandtool.com
USA Made EDC Belts and Range Belts – https://www.appliedgear.com