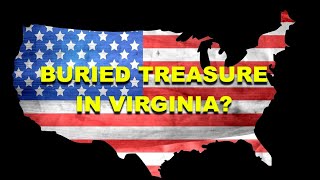 Where is the Lost Treasure in America? In this video, we examine hidden treasure in a salt mine, a man that was buried with $2.3 million, a cipher created by Sir Frances Bacon, and lost confederate gold.
Poor Valley sounds like an unlikely place for buried treasure, but $60,000 may be hidden in an abandoned salt mine. Zebulon Miller proves that you can take your riches with you to the grave. Sir Francis Bacon hides clues in his text that may lead to priceless artifacts hidden in Virginia. Lost Confederate gold may still be waiting for someone to dig it up in Culpeper VA.
Music by Mini Vandals
Images used under the creative commons license
Attribution-ShareAlike 2.0 Generic (CC BY-SA 2.0)
https://creativecommons.org/licenses/by-sa/2.0/
Image of Gen. Edwin Henry Stoughton
Attribution to Mathew Brady – U.S. National Archives and Records Administration
References
Most People Don't Know These 12 Treasures Are Hiding In Virginia

http://www.retroweb.com/lynchburg/attractions/main.html
Shakespeare's Secrets: A Hidden Cipher in Literature's Greatest Works?

https://en.wikipedia.org/wiki/Bacon%27s_cipher
https://www.legendsofamerica.com/mosby-treasure/