Make Delaware Water Gap a national park? Opponents line up
Make Delaware Water Gap a national park? Opponents line up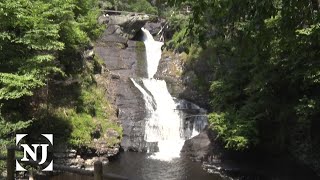 You might think elevating a New Jersey landmark to national park status would be an easy cause for residents to rally around. But the proposal to redesignate the Delaware Water Gap National Recreation Area is stuck in a tug of war. Between environmentalists who want the protections given with that status. And neighbors who fear a government land grab.
Don't forget to SUBSCRIBE for daily videos: http://bit.ly/1ERsYqw
**More info & videos below**
For full episodes, check out http://www.njspotlightnews.org/
Let us know what you think!
Facebook: https://www.facebook.com/njspotlightnews/
Instagram: https://www.instagram.com/njspotlightnews/
Twitter: https://www.twitter.com/njspotlightnews/
—————–
While NJ PBS does not and cannot review every submission and is not responsible for the content of your comments, NJTV reserves the right to delete, remove, move, or edit comments that it, in its sole discretion, deems abusive, defamatory, obscene, or otherwise inappropriate or unacceptable for any reason.
—————–
NJ Spotlight News with Briana Vannozzi is a week-nightly news program on NJ PBS covering local New Jersey news as well as a multi-platform, local information source for New Jersey.
Be sure to share with us your story ideas, feedback and tips about news in your neighborhood here: https://bit.ly/32zwJDT
NJ Spotlight News with Briana Vannozzi airs every weeknight at 6, 7:30 and 11 p.m. ET on NJ PBS.