Metal Detecting! Found South Carolina's Lost Colonial Treasure's! *Historical Artifacts*
Metal Detecting! Found South Carolina's Lost Colonial Treasure's! *Historical Artifacts*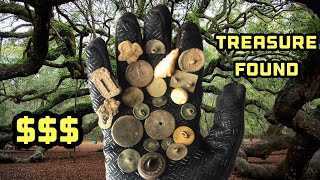 In this video my friend Harley and I went metal detecting in South Carolina in search for Historical artifacts! We ended up finding lost Colonial treasures in the woods, fields, and islands near the coast of South Carolina! What was your favorite discovery in this video?
Ghost digger: https://m.youtube.com/channel/UC9nQ-87GUAH6WS1o2CHqZ7g
📵 DON'T CLICK THIS: https://bit.ly/2HyCbM8?sub_confirmation=1
⚠ About Depths of History:
My name's Britain. I'm a Treasure Hunter, Scuba Diver, Metal Detectorist, and YouTuber w/ 30,000+ Subscribers! I enjoy searching for lost items from the past and sharing my adventures on YouTube!
▶️ FOLLOW ME ON TWITTER AND INSTAGRAM:
▶️ Twitter: https://twitter.com/depthsofhistory
❤ Instagram: https://www.instagram.com/depthsofhistory/
▶️ New? Subscribe to my YouTube channel to follow us on all of our adventures! https://www.youtube.com/user/DepthsofHistory
Back To The Past Podcast: https://podcasts.apple.com/us/podcast/back-to-the-past/id1486628517
Top Videos:
▶️ Metal Detecting Finds 150 Year Old LIVE Artillery Shell! Best Dig! From Dirt To Defusing. :https://www.youtube.com/watch?v=yV9Q_W15LMs&t=23s
▶️ Metal Detecting The Lost Fort Finds INCREDIBLE Discovery In The Woods! We Couldn't Believe It!! https://www.youtube.com/watch?v=DjQkF7O8b3s
▶️ Metal Detecting Finds Untouched Civil War Ground! Incredible Discoveries In The Woods! https://www.youtube.com/watch?v=e8FU0v_cEHU
▶️ Metal Detecting Finds Incredible Evidence Of Fierce Civil War Skirmish Site. I Can Smell The Powder.https://www.youtube.com/watch?v=eWApcGw6MzE
▶️ Metal Detecting Finds The Site of a Lifetime! Unearthing Incredible Treasures! https://www.youtube.com/watch?v=U_jTufCh3aE
▶️ CRAZY Amount Of Civil War & Colonial Treasures Found Metal Detecting In Virginia!https://www.youtube.com/watch?v=16hRNXeO874
▶️ Found Cannonball, Stolen Safe, and Knife In River While Scuba Diving! (Unbelievable River Treasure)https://www.youtube.com/watchv=n4aTbryLpDM&t=589s
▶️ Metal Detecting The Lost Civil War Camp Unearths The Find of a Lifetime! We Couldn't Believe It!https://www.youtube.com/watch?v=zeYopN8JdcA
▶️ Traveled 5,000 Miles To Find My Oldest Coin Metal Detecting! This May Leave You Speechless.https://www.youtube.com/watch?v=bfdugMDwz20&t=2s
▶️ Incredible Colonial Treasure Found Metal Detecting! This May Leave You Speechless.https://www.youtube.com/watch?v=pfqLFTOMh_8
Have any questions? Feel free to email me anytime! I'm open to discussing collaborations, sponsorships, product reviews and more! Email: retrievinghistory@gmail.com
▶️ Depths of History Shirts! – https://detectees.onlineweb.shop/Depths_of_History/p5708246_18943429.aspx
▶️ Depths of History: https://www.youtube.com/user/DepthsofHistory
Metal Detecting Finds Lost Colonial Treasure's In South Carolina! *Found Historical Artifacts* https://youtu.be/uSt2Kvc9ALA
#MetalDetecting #Treasurehunting #Metaldetector #Coins #Treasure